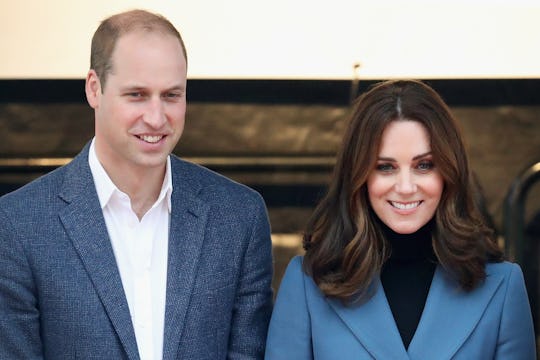 Chris Jackson/Getty Images Entertainment/Getty Images
Fans Think Kate Middleton Revealed Her Baby's Sex In The Family Christmas Card Photo
British royal family enthusiasts started off their week with a treat: Kensington Palace shared the photo that the Duke and Duchess of Cambridge will feature on their Christmas card this year. It's a delightful snap of the couple and their two young children, 4-year-old Prince George and 2-year-old Princess Charlotte. But for some, the image was more than just another glimpse of the youngest royals — it was a clue about Middleton's next baby royal-to-be. It's old news that Prince William and his wife are expecting, and fans think that Kate Middleton revealed the sex of their third baby in the card, too. Of course, nothing's for sure, but could it just be a coincidence that the entire family wore baby blue?
If Prince William and Kate Middleton are pulling a Kylie Jenner and teasing their many fans by planting a tantalizing clue about the sex of their baby, well, it's working. Amid the excited exclamations over how beautiful the whole fam is (indeed, they are) Instagram commenters couldn't help but notice that there was a definite theme that threaded from William's blue necktie to Charlotte's adorable party dress, and a lot of people made some educated guesses that their third child will be a boy.
The royal family revealed that Middleton was pregnant for the third time in early September, but has so far been tight-lipped about whether George and Charlotte will be getting a little brother or a little sister. What we do know for sure is that the baby is due in April — which means that some version of the the chatter the Christmas card inspired will probably ensure for a few more months.
For now, though, it seems as though some believe that the photo, taken by Getty Images royal photographer Chris Jackson, settles the matter once and for all:
But while it's certainly tempting to run with that conclusion, there are plenty of reasons to be cautious when placing bets. First and foremost is the age of the actual photo. The caption on Kensington Palace's Instagram page reveals that the family posed for the pic "earlier this year." And, as People magazine's Erin Hill pointed out, it shows Prince George wearing the same outfit as he was in the photograph previously released in honor of his July birthday. This, coupled with the fact that Jackson gets photo cred for both pics, suggests that they were taken on the same day.
Fast forward a few months to early September, and an unnamed source told Us Weekly that Middleton was about 11 weeks pregnant at the time of her big pregnancy announcement. Assuming that's true and that the Christmas photo was taken before George's July 22 birthday, Middleton would have been very early on in her pregnancy, if she was pregnant yet at all. In the photo, of course, she appears to be bump-free. So, it seems just as likely — if not more likely — that they went with the blue color scheme simply because it looks great on camera.
After all, Prince William and Middle clearly like the color:
Whatever the case, the prospect of a new royal baby is surely an exciting one for the family and anyone who loves keeping tabs on them. And the little boy or girl will arrive just in time for the wedding of Prince Harry and American actress Meghan Markle, which is scheduled to take place May 19 at St. George's Chapel at Windsor Castle. Maybe fans will even get a peak at the brand new baby then?
Congratulations to William, Kate, and their incredibly photogenic family!
Check out Romper's new video series, Romper's Doula Diaries:
Watch full episodes of Romper's Doula Diaries on Facebook Watch.