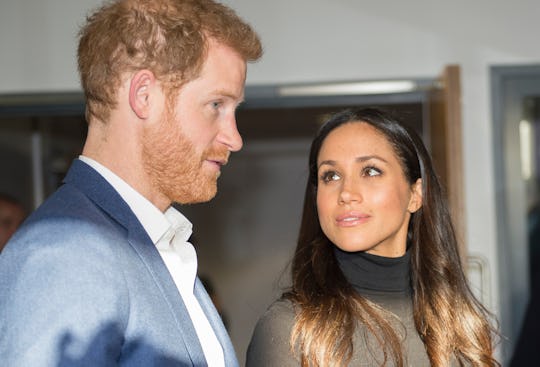 WPA Pool/Getty Images Entertainment/Getty Images
Fans Think 'Love, Actually' Predicted Prince Harry's Engagement To Meghan Markle, & Yes
I'm just going to dive head first into this fan theory about the Christmas movie Love, Actually predicting Prince Harry's engagement to American actress Meghan Markle. Because it's one of the few times I've read a fan theory and got those happy chills of recognition. I mean, how did I miss this? Prince Harry and Meghan Markle are 100 percent Sam and Joanna grown up, and honestly I'm just super happy that it all worked out for them.
For those of you who don't remember, here is how the story goes in Love, Actually; young Sam (played by fellow adorable British ginger Thomas Brodie-.Sangster) is a boy who falls in love with a biracial American girl, Joanna (played by Olivia Olson). In the movie, Sam has just lost his mom at a very young age. Sadly, this is much like Prince Harry, whose mother Diana was killed in a car crash when he was just 12-years-old. Sam falls head-over-heels for the beautiful Joanna, whose mother is African American and father is white. There's this big scene where Joanna performs Maria Carey's "All I Want For Christmas Is You," with Sam playing the drums. The two fall in love, kid-style (they grin at each other a whole lot), and then Joanna jets back to live in America.
Now, the internet is positive the couple have been reunited.
I mean... can you even believe it? The kids even look a whole lot like Harry and Meghan; check out the cheekbones on little Joanna, and that impish grin on Sam? Looks just like Harry, don't pretend you don't see it.
Before you scoff, understand that fans know Harry and Meghan Markle aren't, like, genuinely Sam and Joanna. But it's like one of the best Christmas movies of all time foreshadowed one of the best royal engagements of all time; Princess Diana's youngest son, who is a total sweetheart by all accounts, marrying an American biracial actress, who is also reportedly a total sweetheart. Just like Sam and Joanna. I mean, it's kind of a Christmas miracle.
All I wanted for Christmas was this. And a spa gift certificate.
But mostly this, just like every other fan out there who immediately recognized the perfect, symbiotic relationship between actual Prince Harry and Meghan Markle and Sam and Joanna.
Still not sold on the eerie and wonderful similarities? In 2003's Love, Actually, Sam opens up to his stepdad Daniel (played by Liam Neeson and co-starring Neeson's cashmere scarves) about how Joanna is "The One,"
There was [one person] for Kate and Leo. There was one person for you. And there's one for me. Joanna is the one.
Harry admitted during the couple's first joint interview with the BBC that he knew Markle was the one "the first time we met."
I don't want to overstate the importance of Meghan Markle's engagement to Prince Harry, but their love story is the happy ending we need for 2017. The couple have been dating since they met through a mutual friend in July 2016, and have basically had the sort of courtship that movies are made about. They reportedly went on a few dates before Harry convinced the Suits actress to join him in Botswana two weeks after they met. They slept under the stars, and fell in love. From there they crossed oceans to be with each other (just like Joanna came back across the Atlantic to see Sam in Love, Actually you guys!), until Harry eventually popped the question at home over a chicken they were roasting together.
Honestly, I'm so glad to see Sam and Joanna ended up together.
I mean... Harry and Meghan.
Check out Romper's new video series, Romper's Doula Diaries:
Watch full episodes of Romper's Doula Diaries on Facebook Watch.