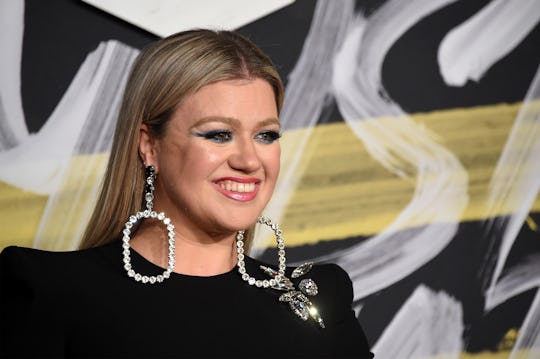 Mike Coppola/Getty Images Entertainment/Getty Images
Fans Want Kelly Clarkson To Perform At Super Bowl Halftime Really Badly
Kelly Clarkson has always been a real fireball of a performer, but never more so than the past few years. Clarkson, as most of us probably remember, was initially introduced to the world as the first winner on American Idol. But she's become so much more since then. A powerful, gifted performer. An advocate for body positivity and honesty. And, of course, a mom and stepmom. Now that fans want Clarkson to perform at Super Bowl halftime next year, I think it really says something about the way motherhood has helped to shape Clarkson as a performer. And I also think it's sort of a win for working moms everywhere.
First of all, let's take a little walk down memory lane and look at some performers at the Super Bowl halftime show (also known as the only good reason to watch the Super Bowl, in my opinion) through the years. While most of us are pretty accustomed to the megastars who tend to play at the Super Bowl halftime show, it's actually only been a tradition since 1991 when New Kids On The Block performed. In the years since, we've been treated to performances from some of the greatest performers on the planet; Prince, Lady Gaga, the Rolling Stones, Madonna, and even Queen Bey herself.
For next year's performance, however, fans have already started putting in their request for who they would like to see perform. And they want Kelly Clarkson. Especially after the "Miss Independent" singer performed at the U.S. Open recently and wowed everyone, not just with her singing ability but also her electric stage presence.
Fans essentially saw this performance as something of an audition for the Super Bowl. And apparently they decided she definitely got the part.
Clarkson has already had a stellar career to date; since winning American Idol in 2002 she has gone on to make eight studio albums, won three Grammys, and is now one of the judges on The Voice. But that doesn't mean she hasn't struggled to find her way in the music industry. Over the years, Clarkson has been incredibly forthright about how difficult it has been to deal with negative comments in the press about her looks. She told Ellen DeGeneres in 2016 that people had been tough on her about her weight for years, according to CNN:
Yeah, I was the biggest girl on ['American Idol'] too. And I wasn't big, but people would call me big because I was the biggest one on 'Idol,' and I've kind of always gotten that.
Clarkson has always given the impression of being a tough cookie, but ushe seemed to really get to know herself in a significant way after marrying Brandon Blackstock in 2013 and becoming a parent. She became a stepmom to his two kids from a previous relationship; 16-year-old daughter Savannah and 11-year-old son Seth. She welcomed her first baby girl River Rose in June 2014, and baby boy Remington Alexander in 2016.
After becoming a mom, Clarkson admitted that her priorities shifted significantly. She told People that she has managed to achieve a "certain level of peace," and that before kids she "relied on my career a lot for my self-worth. And now I'm more than that." She also told Good Housekeeping that motherhood has given her wells of self-assurance she didn't think she would ever experience:
I sound like such a tool but becoming a mother has made me next-level confident. I've never felt more empowered. I feel like my 20s were spent walking on eggshells making sure everyone felt loved and not really expressing my opinion.
I think any mom out there who thinks that parenting and career can't be mutually beneficial need to pay close attention to Kelly Clarkson. She has managed to harness all of her parenting energy to give her confidence in her work. She doesn't apologize for her kids and happily identifies herself as a mom at every opportunity. And it hasn't made her less powerful or less significant. It's made people stand up and take notice.