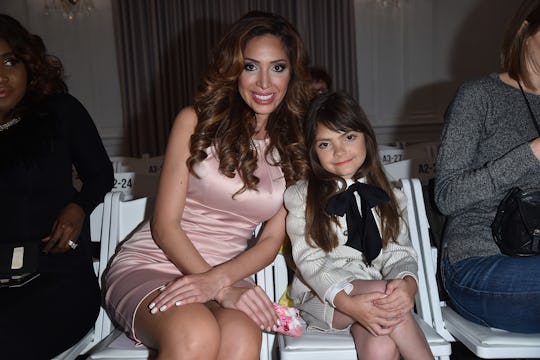 Jacopo Raule/Getty Images Entertainment/Getty Images
Farrah Abraham Attacked For Giving Weight-Loss Tea To Her Daughter, But It Didn't Happen
Another day, yet another example of Internet bullying perpetrated by so-called "fans" who aggressively announce their disagreements with a certain celebrity mom's parenting decisions. This week, we saw Teen Mom OG star Farrah Abraham attacked for giving weight-loss tea to her daughter. As it turns out, though, that's not what really happened. On Nov. 1, Abraham posted a photo to Instagram promoting her use of Flat Tummy Tea, a weight-loss and detox beverage that supposedly cleanses your system, supports metabolism, reduces bloating, and boosts energy. Because the photo happened to include Abraham's 7-year-old daughter, Sophia, her roughly 764,000 Instagram followers took issue with what they assumed was Abraham letting her kiddo consume the tea — which, according to the Flat Tummy Tea website, contains senna leaf, an FDA-approved laxative used to treat constipation and clear the bowels of patients prior to a colonoscopy.
Admittedly, the photo does show Sophia sipping something, but as Abraham later told Us Weekly, the girl's cup actually contained a substance most would deem totally appropriate for child consumption:
She has strawberry milk and I have my tea. She wanted to take a pic like that, so no, my daughter does not have tea in her cup.
One Instagram user wrote:
Horrible parent. I'm sorry but this stuff actually negatively affects your daughters body, just like the way your way of "role modeling" affects her as well. I'm not someone who mother slams, I think it's so wrong to do so but you're on another level as a bad parent.
This person claims to not be someone who "mother slams," yet that appears to be exactly what they're doing by posting such a comment. And believe it or not, that particular remark is relatively tame compared to some others:
You're a pathetic excuse for a parent. Worthless f*ckin skank.
Dang, them's fightin' words!
What you're doing to your child is unsafe. Practice what you preach. The only logical thing I can think of for your behavior is that you sold your soul which further explains why you're so heartless. She is a CHILD. Let her be a CHILD.
Abraham may dabble in adult films, but there haven't been any reports detailing her alleged deal with the devil — and you know the tabloids would be all over that.
How has no one taken your kid away yet? You are a terrible parent! You dont deserve your daughter. Kids are allowed to be chubby, she will grow out of it not that I think she is chubby. I would be embarrassed if I were a relative of yours.
Advocating for a mother to lose custody of her child seems a bit excessive, no?
Next time you have the urge to lash out at a parent online — with accusations that aren't even backed up by facts — try watching the BuzzFeed video below. Like it says, "We're all on this crap rocket ride of parenthood. Let's be nice to each other."