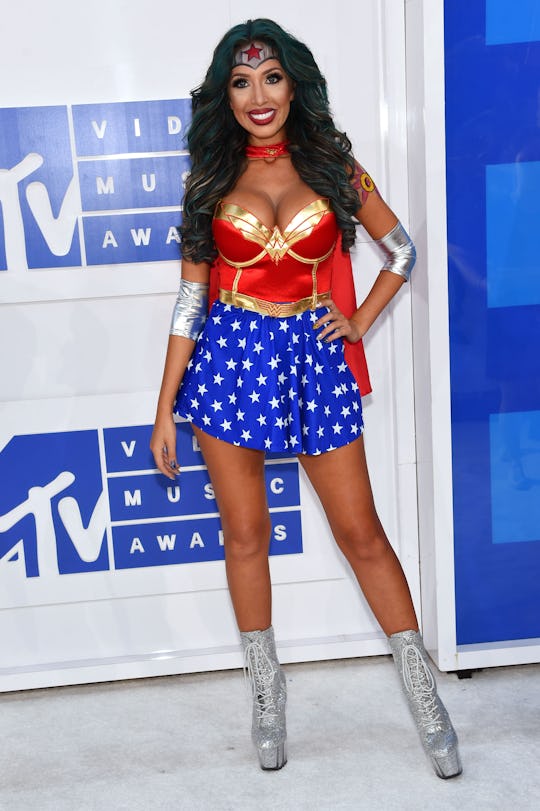 Jamie McCarthy/Getty Images Entertainment/Getty Images
What Is Farrah Abraham Doing Now? Ignoring Her Haters & Making A Life For Herself
Farrah Abraham, former star of MTV's Teen Mom, is no stranger to the spotlight. We first met her on 16 and Pregnant in 2009, when the then-cheerleader from Council Bluffs, Iowa, quit high school as rumors of her pregnancy made the rounds. Allegedly denied an abortion by her mother, Abraham had been impregnated by boyfriend Derek Underwood, who died when she was eight months along. Her TV appearances made her a favorite subject for gossip rags as she navigated her first years of motherhood embroiled by controversy: In 2010, her mother, Debra Danielson, was charged with assault after an altercation with Abraham; in 2013, Abraham was arrested for drunk driving and became affiliated with the adult-film industry. But what is Farrah Abraham doing now? As it turns out, a lot.
In addition to appearing on other reality shows like Celebrity Big Brother, Million Dollar Matchmaker, and VH1's Couples Therapy, Abraham has dabbled in the music business, written a memoir, earned an associate's degree in culinary arts and management, launched a line of pasta sauces with her mom, and opened a restaurant, all while continuing to raise her now 7-year-old daughter, Sophia. Her parenting style usually results in a majority of the criticism lobbed her way, but the latest critiques, sadly enough, seem to be aimed directly at the little tyke herself.
After Abraham shared the above image of Sophia on her Instagram page, many of her followers called her out for not getting Sophia braces yet. It's not the first time the mother-daughter pair has been shamed online — similarly, when Abraham posted behind-the-scenes photos of Sophia during a June photoshoot, Instagram members slammed her for what they called "disgusting and provocative shots" of the girl donning makeup and wearing a bikini. Abraham, who has been helping her daughter break into the fashion and modeling industries, told PEOPLE she's proud of Sophia's success:
There's a lot of young children who do modeling, and everyone loves her pictures. I think because we're on Teen Mom OG, we get bad criticism, but Sophia's doing amazing in modeling, I couldn't be more proud of her – she's opening up her own children's boutique, we're selling clothing. So the more pictures and more she's in a positive light and happy with what she's doing, there's nothing wrong with embracing how awesome Sophia is.
The self-proclaimed #mommanager has talked publicly about her difficult childhood and has also said she's been a victim of rape repeatedly. And while I don't dare judge a stranger's parenting decisions, I can imagine how difficult it must be to raise a family and make a living while being in the public eye. To me, Sophia looks like a happy and healthy little girl in these photos, and isn't that what really matters?
Abraham is currently starring on Teen Mom OG, a continuation of the original Teen Mom, and recently opened her own frozen-yogurt shop, dubbed Froco. According to InTouch Weekly, she's reportedly worth an estimated $1 million.
My advice? Keep doing you, Farrah.