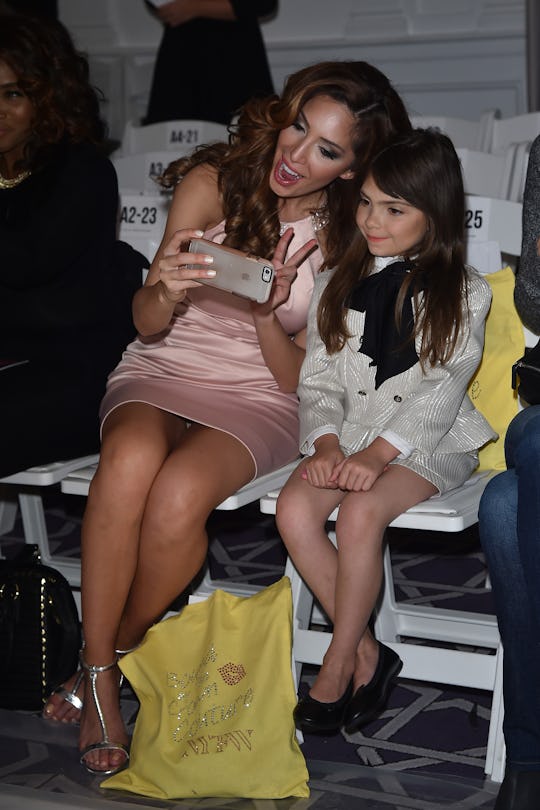 Jacopo Raule/Getty Images Entertainment/Getty Images
Why Judging Farrah Abraham's Parenting Isn't Helpful
Farrah Abraham has come a long way since she starred on MTV's Teen Mom and its predecessor, 16 and Pregnant. But she's continued to generate controversy when it comes to the decisions she makes regarding her now-7-year-old daughter, Sophia. Social media photos of the girl do depict a child who seems happy and healthy — but also one who oftentimes appears posing in a bikini or sporting a full face of makeup and looking eerily like a little adult. Although many moms and dads would be loath to expose a child that young to modeling, judging Farrah Abraham's parenting definitely isn't helping.
Critics have been vocal about accusing the 25-year-old Abraham of sexualizing her daughter and not giving her the opportunity to be an awkward-looking, carefree child for years. When Sophia was just 3, for example, Abraham went public about tweezing her unibrow, a decision that largely landed with a thud. Now Instagram users are aiming a new round of vitriol Abraham's way after she posted a video of Sophia modeling in a pool to her daughter's own account (which Abraham manages) on the social media site."#tbt pool #Photoshoot this is how we do! 🐳🐳🐳," she captioned the short clip.
And the parenting police of the internet were quick to post their opinions: "Sad for this poor girl," one commented. "She has no one to protect her innocence." Another called Abraham a "moron," and a third lamented that Sophia "should be swimming with kids her own age. Splashing. Playing marco polo. Something other than laying in a pool with cameras in her face."
These commenters weren't any kinder than they had been a few days before, when Abraham posted a video of Sophia wearing an adult-sized life jacket and dancing to Fifth Harmony's "Worth It." Many were less-than-impressed that the life jacket was much too big for the girl, and others found the 7-year-old dance seductive.
While it's easy to get caught up in lambasting others' parenting (especially that of a quasi-celebrity like Abraham who posts to social media often and may not always seem like an actual, real human being to those who monitor her solely online), the practice is neither fair nor productive. While encouraging a kid who's just learning to read to look suggestively into the camera and pucker her lipsticked lips feels icky to many, it's inappropriate to blast Abraham for a decision that's not inherently harmful to her child. Also, Sophia's Instagram is full of snaps of her doing regular-kid things too, like when she went to karate and the time she wore matching pajamas with her American Girl doll.
And any parent knows that what works for one family may not work for another, and vice versa. There's no way to know for sure that Abraham is forcing her daughter to do something she hates by encouraging her to model, as many have suggested. It's quite possible — and even likely — that Sophia enjoys a balance in life, and that she is just as enthusiastic about her budding career as a model as her mother is.
Regardless, unless a child is in real physical or emotional danger, mom-shaming is always a bad idea. There's no one, narrow definition of what a "good mom" does or doesn't do, and harshly judging Abraham via internet comments won't help her to grow as a parent, anyhow. Worse, Sophia herself could begin to internalize that online negativity as she grows older and starts managing her own social media accounts, and that would only harm her.