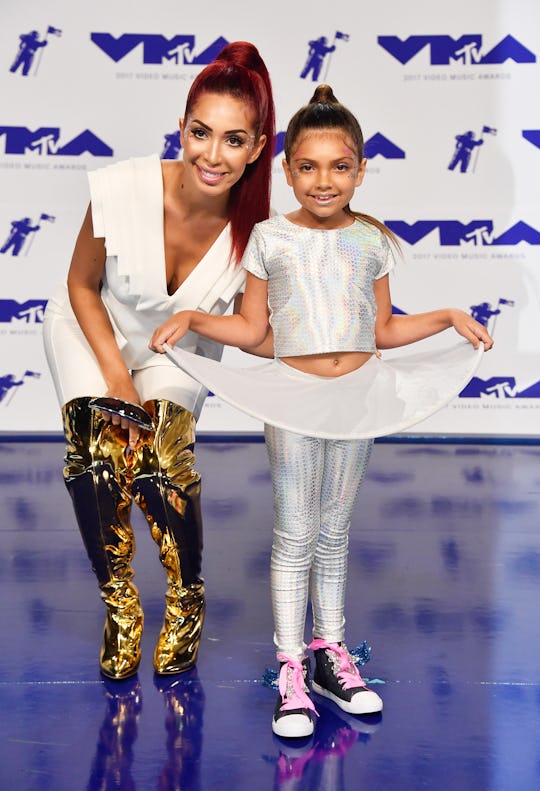 Frazer Harrison/Getty Images Entertainment/Getty Images
Farrah Abraham Is Being Replaced On 'Teen Mom OG,' & Fans Have So Many Feelings
Reality star Farrah Abraham is certainly no stranger to controversy. After debuting on MTV's first season of 16 and Pregnant in 2009 as a pregnant 17-year-old high school cheerleader from Iowa, she then became one of four moms picked to star in the popular spin-off series, Teen Mom. But her eventual decision to enter into the adult film industry earned her a lot of backlash, and in November 2017, Abraham said she was told she could no longer be on Teen Mom if she continued with her adult film career. On Tuesday, MTV confirmed that Farrah Abraham is being replaced on Teen Mom OG, according to Us Weekly, and while Abraham has since filed a $5 million lawsuit against MTV's parent company, Viacom, in relation to her dismissal, fans definitely had opinions about whether it was the right call.
It's not exactly surprising that Abraham's decision to appear in adult films ruffled lots of feathers. After all, not only is there huge stigma surrounding sex work in general, the fact that Abraham is also a mother — and specifically someone who is literally only in the public eye in the first place because she gave birth on a reality show — invites even more judgment. Abraham is regularly criticized for being a bad role model for her young daughter, Sophia, and she has often also received backlash for her parenting decisions (the internet's seemingly-collective freak out over Sophia's 2016 modeling photos comes to mind).
There's also no denying that Abraham is completely unapologetic about speaking her mind, no matter who it might offend. She's feuded with her former Teen Mom co-stars, once criticizing Amber Portwood's relationship with her ex-fiancé Matt Baier right in front of her during the season 6 Teen Mom reunion special, according to People, and in December, she claimed in a tweet that Catelynn Lowell's husband, Tyler Baltierra, was gay. In January, she took another verbal swing at her co-stars on Twitter, calling them "trash moms" and writing that she was "so happy" she was no longer on the show, and she's also clashed big time with Teen Mom producers, according to People.
In a recent episode of Teen Mom OG, Abraham lashed out at MTV producer Kristin over filming delays, and in an episode sneak peak, Abraham told her, according to footage from the episode,
Kristin, I know I don't like you, and I know I don't even want to f*cking look at you, so when you have my mom wait here for 30 f*cking minutes, don't f*cking do that anymore. If you can't get along with anyone, or try to, and get in the f*cking way of how I live my life, then do not work with me.
That wasn't their only expletive-filled confrontation, however. On Monday's episode, Farrah became upset when she thought Sophia's set teacher gave her candy, and insisted that the teacher be replaced immediately. When Kristin explained to Farrah that production would have to be put on hold if the set teacher wasn't present due to California law, Farrah replied, "You can call and get a different set teacher. This b*tch is fired today. I fired her." When Kristin continued to try and get her to agree to having the teacher stay, Farrah said,
What the f*ck is your issue? ... Maybe you shouldn't be working with me. I'm shutting my door and I'm gonna go ... Nobody else tries harder than I do. You're really, really, really ignorant, and it is really annoying.
In 2016, Abraham also clashed with another Teen Mom producer over her filming responsibilities, after cameras arrived at her house when she said she wasn't supposed to be shooting. When discussing the matter with a producer named Larry, Farrah said, according to People, "I don't know why anyone's here today, because there's really a void in our agreement because you wouldn't allow me to seek other forms of income." And when Larry then replied that refusing to film would mean Abraham was in breach of contract, she let him have it:
I'm not. I did everything on my end, sweetheart. So you can just take your little ass and get on a phone call and do your job ... Larry, I'm laughing. I would love to not laugh in your face. Why are you so white trash?
On social media, it's clear that fans of the show were not impressed with Abraham's behavior, and many saw it as proof that MTV's decision to cut ties with the star was totally justified:
At the same time though, there's no denying that the actual situation is much more complex than it might seem on TV. For one, as much as people may not like Abraham's behavior, the drama probably translated into ratings — one reason why they may have opted to keep her on this show all this time.
But more importantly, even if Abraham's behavior was uncalled for, and even if she's made controversial choices, there's no question that it's definitely not easy to be a 17-year-old single mom thrust into the spotlight, who then has to figure out how to best capitalize on her fame as much as she can to ensure a future for herself and her daughter. Add to that the long-standing painful issues she's had with her parents, and as it might seem like Abraham deserves judgement, she also deserves at least as much empathy. And whether or not you agree with her parenting style, it's hard to argue she isn't trying her best.
Now that Abraham is official out of the Teen Mom franchise, she'll be replaced in upcoming episodes by Teen Mom 3's Mackenzie McKee, according to Us Weekly, a married mom-of-two who is currently grappling with her mother's brain cancer diagnosis. In other words, it sounds like MTV is taking the show in a bit of a different direction, and for the fans who didn't like Abraham, that's probably welcome news. But given Abraham's outspoken and incredibly public nature, it's probably safe to assume this is far from the last we'll hear from the reality star.
Check out Romper's new video series, Bearing The Motherload, where disagreeing parents from different sides of an issue sit down with a mediator and talk about how to support (and not judge) each other's parenting perspectives. New episodes air Mondays on Facebook.