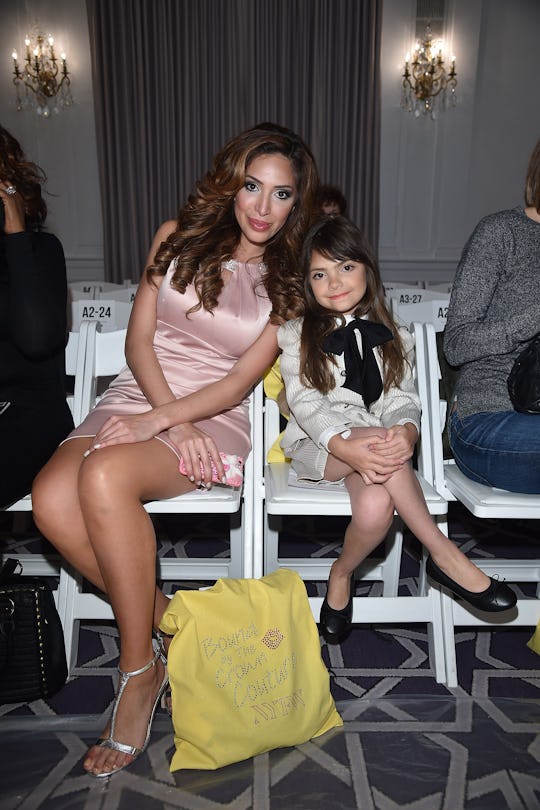 Jacopo Raule/Getty Images Entertainment/Getty Images
Farrah Abraham's Instagram Photo Of Her Daughter Shows There's No Escaping Concern Trolls
On Sunday, a mom took to Instagram to post a photo of her daughter — something thousands of moms do on the regular. No biggie, right? Turns out by Monday morning, it was a huge deal for some as they called this woman everything from a bad mother to much, much worse, for posting this particular photo. And the mom? Teen Mom's Farrah Abraham. Online commenters deemed Farrah Abraham's Instagram photo of her daughter, 7-year-old Sophia, too racy for a girl so young: Indeed, Sophia was snapped in a sassy pose sporting a bikini in a promo image for the new season of Teen Mom OG, in which her mom appears. Teen Mom OG premiers Monday night on MTV.
Like so many online concern trolls vomiting their internet rage into the comment section, comments on Abraham's photo ranged from minor pearl clutching — "Sexualizing a kid is wrong. And sorry but she's no model. Just being honest" read one comment from @yc2727 — to flat-out cruelty. "That is one ugly kid! But just like her Mother! Like Mother like daughter," posted @ravenshuta. "I'm sure she will be knocked up way before 16!" Whether or not you think Abraham's post was appropriate, the internet concern trolling trend has gotten way out of hand.
This isn't the first time a celebrity mom has faced online backlash for having the audacity to post photos of their kids online. Model Chrissy Teigen has faced criticism basically since the day her daughter was born: It's as though this new mom can't do anything right as a mom — at least according to her critics on Instagram and Twitter. Last month, actress Kristin Cavallari posted a picture of her two sons at the beach. The internet verdict? Instagram commenters thought Cavallari's sons were "too skinny" and that she should stop starving them.
The madness doesn't stop there, either. Last year country singer Jessie James Decker pointed out the hypocrisy that Kim Kardashian can post nude and semi-nude photos to social media without folks batting an eyelash — and yet her 10-month-old daughter Vivienne potty training photo was removed from Instagram. Even a former Spice Girl can't escape the internet hate: last month, online fans took umbrage with a photo of Victoria Beckham kissing her child on the lips. Oh the humanity!
Look, all personal opinions about Farrah Abraham, her daughter, and her Instagram photo aside: This internet rage moment is a good reminder to parents that anything you post on social media lives on the internet forever. It doesn't matter if you delete your post — someone, something, somewhere has saved it milliseconds before you could take it down. And while it may seem harmless to post pics of your kids online, just remember that when your kids Google themselves in 10 years, there's a good chance they could see your old posts — and all the helpful or hateful comments that random people had to say about it.
Ultimately, it's up to every family to decide what's appropriate to post about their family online. I refuse to take a stance one way or the other about the content of Abraham's Instagram photo of her daughter, because it's her right as a parent to post that photo — internet haters be damned. And truthfully, it's really none of my business — nor is it my place to judge someone's parenting ability on a single photo alone.