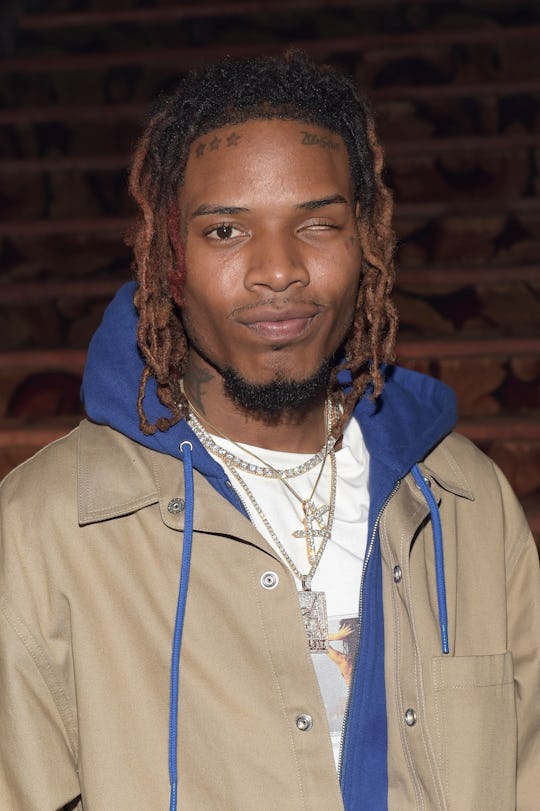 Jason Kempin/Getty Images Entertainment/Getty Images
Fetty Wap & Alexis Skyy Just Welcomed Their Baby Three Months Early At Only 1 Pound
Having a baby is always an exciting time; after all, what could be more important than bringing new life into the world? But just because it's exciting doesn't mean it's not stressful, especially if there are complications. When rapper Fetty Wap and Alexis Skyy welcomed their baby three months early, it was with no small amount of concern. Because the precious baby of the two exes was born at just one pound after Skyy was rushed to the hospital on Jan. 2.
The 26-year-old rapper and the Love & Hip Hop: Hollywood television star welcomed baby girl Alaiya a full three months before her due date. Skyy revealed in an Instagram Live video on Jan. 2 that her water broke and she was later rushed to the hospital. She then posted a video from her hospital bed to update fans, saying:
They're gonna have me in the hospital for a long time and I just pray that everything do good. She's okay, she's fine.
Fetty Wap, whose real name is William Maxwell II, was at Skyy's side as she gave birth on Thursday via cesarean section. His ex-girlfriend Skyy shared an Instagram video where the couple noted that both parents had actually also been born prematurely.
Editor's Note: The Instagram post has since been deleted.
Little Alaiya is the first child for Skyy and the fourth child for Wap, who is also expecting another child with Lezhae Leona. While both Skyy and Alaiya are reportedly in stable condition in the hospital, the baby is expected to stay in the NICU department for some time. People reported that Skyy had this to say about her tiny daughter:
She's healthy that's all that matters to me. She's like three months early, so I don't know. The goal is to keep her in there but once your water breaks it's kinda hard.
On Friday, 23-year-old first time mom Skyy posted a picture of Alayia's nano preemie diaper on her Instagram Story feed with the caption "Her little diaper." These tiny diapers, which are the world's smallest diapers, were actually designed by NICU nurses and neonatal therapists to protect babies who are born at less than two pounds. They are made to help preemie development, with a soft liner and special material that doesn't irritate the baby's tender skin.
The Daily Mail reports that the little girl is being kept in an incubator under observation, where hopefully she will continue to grow. Any child born before 37 weeks gestation can be considered at a heightened risk for health issues and complications, and a baby born three months early can be especially worrisome. Fortunately for both Fetty Wap and Skyy, their baby is in the best possible place to grow and develop. As American Pregnancy noted, the NICU is equipped with life-saving monitoring and alarm systems, 24-hour lab services, respiratory and resuscitation equipment, and perhaps most importantly pediatric physicians who specialize in a variety of areas.
And naturally, just having the support of the staff there to reassure her must be of great comfort to Skyy, especially considering this is her first baby and she's probably feeling incredibly worried right now.
The next few months will be pivotal for both mother and daughter. While caring for a preemie will be a challenge, hopefully Skyy and Fetty Wap will be able to lean on family and friends for emotional support as their little girl grows bigger and stronger. Because that's all that matters right now; not their relationship status, not anyone's opinion about their lives or their choices. All that matters is the health of their little girl, born at just one pound, who needs her parents to help her grow.