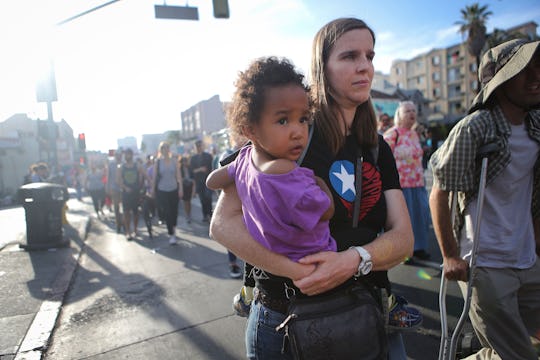 Mario Tama/Getty Images News/Getty Images
Here How To Find A "Families Belong Together" Protest Near You
Americans have been left outraged over President Donald Trump's "zero tolerance" immigration policy, which has made immediately prosecuting border-crossers a top priority — and has left thousands of children separated from their parents. Images and video of these children in makeshift detention centers — along with the announcement that at least three "tender age shelters" are now home to babies and young children near the Texas border — has been beyond heartbreaking. But even though Trump recently signed an executive order reversing the policy he originally sanctioned, there is still much work to be done. Here's how to find a "Families Belong Together" protest near you, because immigrant families still need us to advocate for them.
On Wednesday, Trump said his executive order was meant to "maintain family unity," by detaining families together instead of separating them, according to CNN. Yet, while that might sound like an improvement to the original policy — which the president of the American Academy of Pediatrics agreed was "a form of child abuse" — those involved in helping immigrant families remain skeptical. For one, while the order may prevent incoming families from being separated, it doesn't address what will happen to the 2,300 children already on their own. One thing it does suggest though, is that the administration may to be changing its tune in response to public pressure, meaning protests are still incredibly important.
On June 30, a national day of action has been planned as part of "Families Belong Together," a collaborative effort between advocacy groups MoveOn, the American Civil Liberties Union (ACLU), and the National Domestic Workers Alliance. Over 100 local protests have already been organized in towns and cities throughout the nation, and the best place to locate a protest near you is at the Families Belong Together website, where you can search by state or by zip code. And if you can't find a protest planned near you? You might want to consider starting one yourself.
The June 30 protests aren't the only option for assembling against the still-inhumane immigration policy, though. On Friday, Equality for HER is hosting a protest in Los Angeles to keep families out of detention centers (Trump's executive order means that, while families may no longer be separated, they'll still be detained according to his zero tolerance policy), and on Saturday, protesters will also gather to create a "tent city" outside of the Los Angeles ICE field office. In Texas on Saturday, there will be a "peaceful march/demonstration" at the International Gateway Bridge in Brownsville, which is one of three ports of entry on the United States-Mexico border, and on June 28, the ACLU is hosting a "Rally For Families At The Border" outside the Brownsville Federal Court, where immigrants are being prosecuted.
A number of protests have also already taken place: in Portland, Oregon Wednesday, the ICE regional office actually closed temporarily thanks to protesters outside, according to NPR, and similar protests have taken place both outside and inside other ICE offices and detention centers, in New York, Baltimore, and San Francisco. And in Virginia? About two dozen protesters even gathered outside of Homeland Security Secretary Kirstjen Nielsen's home Friday morning, according to The Washington Post.
As much as those protests might be effective for making a point though, MoveOn encourages anyone planning a demonstration to choose only public spaces, like "town squares, public parks, city halls, houses of worship, and state government buildings," while avoiding events at detention centers. And the ACLU's website also notes that protesters are not allowed to organize on private property (like someone's home), although "adjoining public property," like sidewalks, are more or less fair game.
Of course, attending a protest in person isn't the only way you can support immigrant families: there are a number of organizations on the ground who could benefit from financial donations, or even volunteers. But if you've been feeling horrified while watching the coverage of family separations, it's important to do something. Because, unfortunately, there are still far too many children out there who need our help.