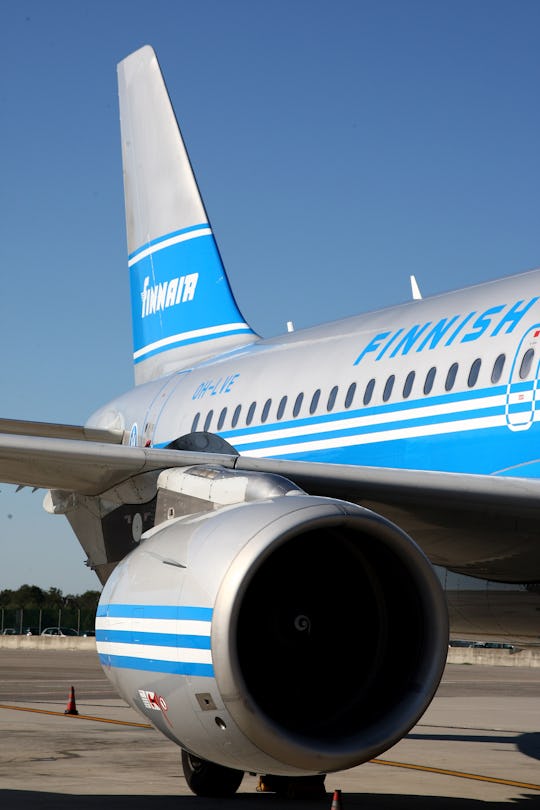 Vittorio Zunino Celotto/Getty Images News/Getty Images
Finnair Pilot Helps Mom Care For Kids During Flight
Ever since Dr. David Dao of Kentucky was forcibly removed from a United Airlines flight on Sunday, talk on the street (and by street, I mean social media) hasn't been great for those flying the "friendly skies." Which is why we all need a little good news from above. A reminder that flying doesn't always have to come with unnecessary dangers. Which is why seeing this Finnair pilot helping a mom of four on a flight is exactly what we all need right now. It's a reminder that some skies are, indeed, still friendly.
According to Finnair cabin crew member Ami Niemelä, a mother of four was recently on board a Finnair flight when, well, she ran into what any mom might face — times four. Anyone who's ever traveled with kids sort of knows the feeling — stress, panic when one of the kids starts kicking someone's chair, that anxious feeling you get when one of them says they don't "feel good."
But traveling with four kids, I can tell you firsthand, is another story altogether. Not enough arms or legs or eyes or brains to go around to make sure all four kids are doing whatever they need to do. And laps — obviously, no human has enough laps. Which is where this Finnair pilot, who was reportedly traveling on the flight, came in to save the day, not to mention the sanity of everyone on board, including the mom in question.
Niemelä wrote of non-flying pilot "Tom" in the caption of an Instagram post:
Today we had a mother on board travelling with four little boys. Two of the boys were just babies.Naturally one cannot travel with two babies on one's lap, so we had to solve the dilemma of missing lap, otherwise it would have been a no go for mom and the kids. Luckily we had our positioning crew on board and wonderful Tom took the task of being the extra-lap. Don't you find them quite adorable!
I certainly do find them quite adorable. (Particularly in the wake of that other unfortunate airline story.)
In the meantime, United Airlines has spent the majority of this week attempting to get ahead of the ever-spiraling fallout from Sunday's incident with passenger Dao. According to The Guardian, United Airlines has since announced that it will be refunding the tickets for all passengers who were on board United Express Flight 3411 in cash, travel miles, or credits. United CEO Oliver Munoz has publicly apologized to Dr. Dao, his family, and fellow passengers on the flight who watched in horror as he was dragged off the flight with a bloodied face by Chicago airport security. The apology could very well be too little too late; Dr. Dao has hired attorney Thomas Demetrio to represent him in a future lawsuit against the airline.
It was a nasty business for all involved. Which is why it's so great to see this Finnair pilot helping out a mom out of the goodness of his heart.
(I knew I should have moved to Finland.)