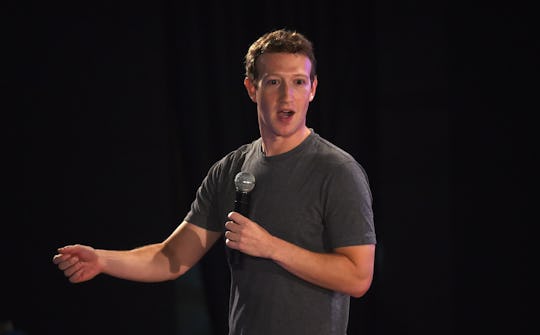 First Photo Of Mark Zuckerberg's Baby Is Here, & You're Going To Like Her
After announcing his daughter's birth last week, Mark Zuckerberg shared the first photo of Max on Facebook Tuesday, and she is adorable. Zuckerberg and his wife, Dr. Priscilla Chan, first introduced Max to the world on Dec. 1 in a Facebook note titled, "A letter to our daughter," in which they also announced that they giving up 99 percent of their wealth to the causes of "promoting equality" and "advancing human potential." It was an inspiring birth announcement that garnered lots of congratulations, praise, incredulity (really? 99 percent?), a few jokes, but mostly congrats. When they announced their pregnancy last summer, Zuckerberg and Chan shared that they'd had three miscarriages on the road to conceiving little Max. They'd come a long way.
But on to the glamour shot. Max's first photo (well, technically her second — she was prominently featured in the family photo at the top of her parents' letter) features Max and Zuckerberg lying side by side, Max looking up at her father as he either squints at her or attempts to keep his eyes open in the full throes of new parent sleep deprivation. Max is chillin' in her diaper, because pants are overrated. Chan isn't in the photo — maybe she's taking it, or maybe she has taken herself off to a day spa, god bless her, and let Max's dad hold down the fort for a while. Zuckerberg is on paternity leave, after all.
Check out the Zuckerbaby, in all her splendor:
Those toes! So much hair! The wrinkly baby knees. Well done, team.
Image: Money Sharma/AFP/Getty Images