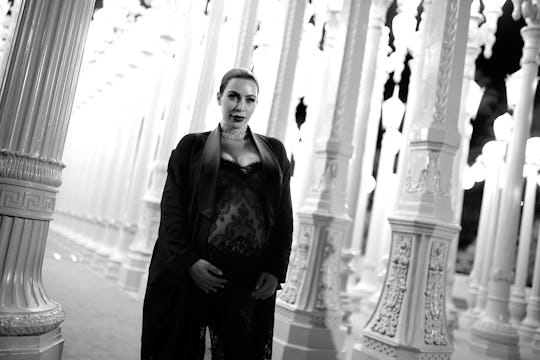 First Saint West Photo Released By Kim Kardashian And It Is Adorable
We've known for some time that newest member of the Kardashian-West would be adorable, but based on what we've seen of him so far? Well, I can't wait for more of a glimpse. Kim Kardashian released the first photo of Saint West, and I can't stop swooning. As everyone on Planet Earth knows, Saint West, as Kardashian announced on her website earlier this month, is Kardashian's second child; daughter North West is two years old.
Now, of course, the first image of the Keeping Up With The Kardashian star's newborn is not a full image of Saint West — instead, Kardashian gives us just a little taste of the Instagram glory that's to come from her second-born child with Kanye West. But, of course, the reality star gives us a taste in the most adorable way possible. Posting an image on her website of little Saint gripping what appears to be North West's finger, Kardashian captioned the photo "She said, 'He's my best friend.'" Can I get a collective "awww" around here? (And don't worry, North's other BFF Penelope Disick — there's not a chance you're leaving North's squad anytime soon.)
See the first image, which Kardashian also tweeted, below:
Seriously, you're swooning, right? How could you not? Too. Cute.
Alright, Kim, you've got our attention now — enough with the teases! But if future photos of Saint West are anything like this, well, then we have no choice but to keep up with your Twitter and Instagram account, waiting with baited breath.
Image: Mike Windle/Getty