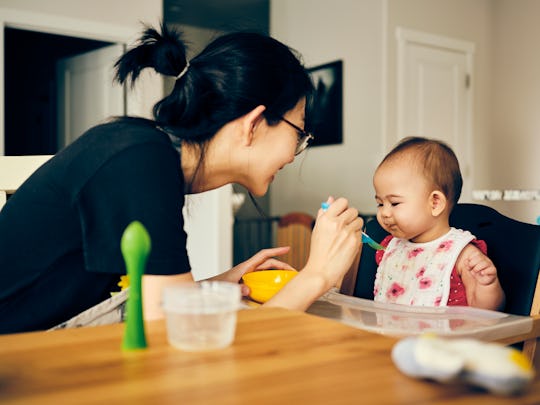 RichLegg/E+/Getty Images
These 10 Solid Foods Are Perfect For Your Baby's First Mealtime
It's an exciting moment when your baby is able to add real food to their daily bottle or breast milk routine. Suddenly, the sky's the limit, you think, as you start planning out meals for your little one. But before you start making a three-course meal for your future foodie, you'll need to know the first solid foods for baby that are safe and delicious.
When it comes to feeding your baby solids, it's all about timing. But when is your child ready to start adding some spice to their lives, literally? "Baby is ready to start eating solids once she's at least 6 months old, can hold her head up and sit up briefly on her own, shows interest in food, and no longer pushes food out of her mouth," Kara Hoerr, RD, a registered dietitian tells Romper in an email. "It's important to wait until baby shows all of these signs before beginning solids to make sure it's safe and baby is developmentally ready." So even if your baby hits that 6-month marker, it might not mean that they're ready, so consult with your pediatrician just to be on the safe side.
But if your baby is ready to start solids, these 10 foods can make mealtime a messy (and delicious) experience.