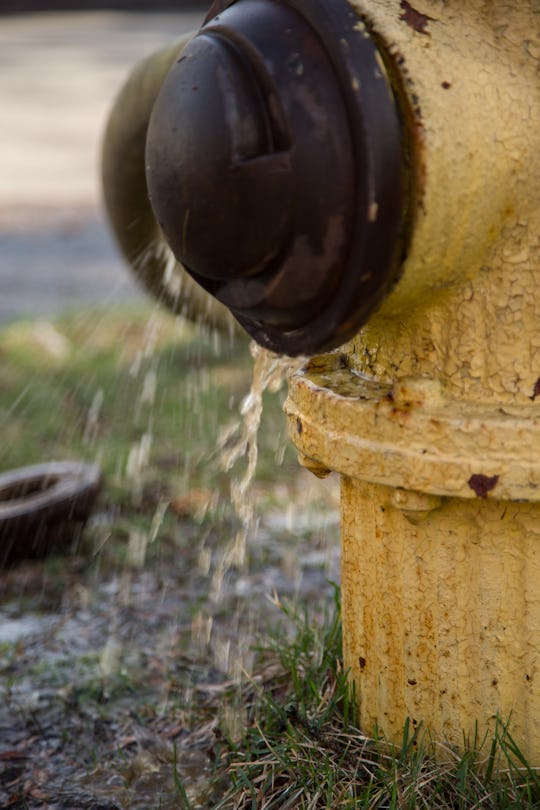 Brett Carlsen/Getty Images News/Getty Images
Flint Water Crisis Could Happen Anywhere, Says Michigan Governor & He's Not Wrong
Michigan Gov. Rick Snyder isn't necessarily deflecting any of the blame for the heartbreaking Michigan water crisis — in fact, with his most recent statements, he may have just inadvertently done everyone a favor. The governor was called to Congress on Thursday to testify before the House Oversight Committee to explain his actions (or, reportedly, his lack of action) during the recent water crisis in Flint, Michigan. According to some, the governor was allegedly informed of toxic levels of lead in the drinking water in Flint a full seven months before he took any action. While he has been clear in expressing his remorse, Snyder was also quick to remind Congress that the Flint water crisis could happen anywhere.
According to a report in The Huffington Post, Snyder explained in his testimony to Congress on Thursday that "the truth is, there are many communities with a dangerous lead problem." He pointed the finger at the "dangerous" federal regulations of lead pipes and warned that "this tragedy [would likely] befall other American cities", if it hadn't already.
According to The New York Times, the issue with the water in Flint, Michigan began back in 2014 when the water supply was switched over to the Flint River in an effort to cut back costs. The water was reportedly not properly treated with corrosion controls (ortho phosphate) and allowed the lead from the pipes to contaminate the water. Dangerous amounts of lead in drinking water can cause all sorts of harmful side effects, not the least of which being brain damage and ongoing behavioral issues when consumed by young children, according to the Centers for Disease Control and Prevention.
The water crisis in Flint was allegedly largely ignored by government officials for 18 months, despite many signs stemming back to 2014, such as numerous boil-water advisories due to high levels of e-coli bacteria in the water supply, as reported by The Detroit Free Press. The local GM plant reportedly even had to stop using Flint water once they realized the water was corroding their motor parts.
While the governor has apologized for his complicity, he wants people to be aware that what has happened in Flint could happen anywhere in the country if new Safe Drinking Water Act regulations are not implemented.
An amendment to the Safe Drinking Water Act was amended in February in response to the Flint water crisis. The act addresses the need for the EPA to inform the public quickly in a water crisis first and foremost... something that could be affecting far too many communities across America in the near future.
A new investigation by USA Today Network reports that there are as many as 2,000 water systems being used by 6 million people that have shown high levels of lead present in the last four years. And these systems are servicing day care centers, schools and homes with small children.
According to Laura Unger of USA Today:
The EPA estimates that about 90,000 public schools and half a million child-care facilities are not regulated under the Safe Drinking Water Act because they depend on water sources such as municipal utilities expected to test their own water. That means parents have no assurance lead isn't seeping into children's water from a school building's pipes, solder or fixtures.
In other words, millions of children could potentially be suffering from lead poisoning if changes are not implemented soon.
In the case of Flint, Michigan, it could very well be too late for some. As Rep. Elijah Cummings said in Congress Thursday during Snyder's testimony this week,
There will now be an entire generation of children who suffer from brain damage, learning disabilities and many other horrible effects of lead poisoning that were inflicted on them by Gov. Synder's administration. Gov. Snyder's administration caused this horrific disaster and poisoned the children of Flint.
Governor Snyder has been asked to resign over his reportedly ineffectual handling of the Flint water crisis. Let's hope this will inspire change elsewhere.