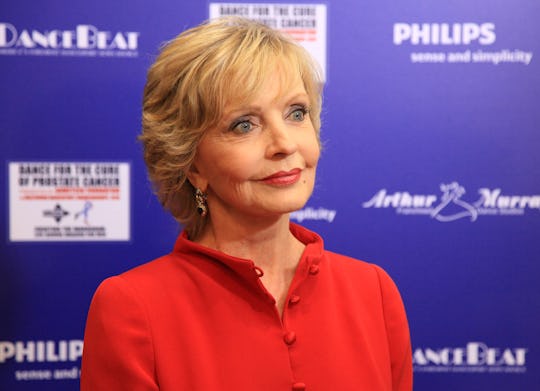 Angela Weiss/Getty Images Entertainment/Getty Images
Florence Henderson's Last Appearance Is A Reminder That Age Is Just A Number
The entertainment world and fans alike were shocked and shaken to hear that beloved actress and matriarch of the ABC sitcom The Brady Bunch, Florence Henderson, died at 82 in a Los Angeles hospital Thanksgiving evening, surrounded by family and friends. However, it was Florence Henderson's last appearance that made the news all the more unbelievable. Just a few days before she died of heart failure, according to Entertainment Tonight, Henderson was seen in the crowd of the hit television show and dance competition, Dancing With The Stars. (Romper reached out to Henderson's representation for statement.)
Henderson — who is also an alum of Dancing With The Stars, having competed in 2010 during the show's 11th season — was seen multiple times on the show this year, in support of her former-television daughter Maureen McCormick (Marcia Brady). Normally seen in the audience, grinning while watching McCormick dance with partner Artem Chigvintsev, Henderson also made a small guest appearance on the show itself, dancing in a The Brady Bunch-themed number. Henderson started by introducing McCormick with her always-memorable, "Marcia! Marcia! Marcia!" before watching on and doing a few quickstep moves, herself. Earlier in the same week, Henderson visited the set of Dancing With The Stars in support of McCormick, telling her, "I'm so proud of you. We've done a lot together."
In her last public appearance, Henderson appeared as happy and healthy as ever, which has made the news of her sudden passing all the more difficult for so many who knew her, including her fans, to comprehend. McCormick took to twitter to share her heartbreak over the loss of her television mom and long-time friend, echoing a sentiment mirrored by those who knew Henderson best: she would forever remain in her heart. The two remained close long after The Brady Bunch was canceled after five years, and McCormick (along with Henderson's five other television children) helped Henderson ring in her 80th birthday, two years ago.
While Henderson's last public appearance was a reminder that she was full of live and undeniable loyalty, a comment made to The Today Show host Matt Lauer in 2015. Henderson said, " I say, do anything you feel like as long as you don't hurt yourself or hurt anyone else. It's so important to keep moving, and don't buy into the myth. If we're lucky we all get older, but we don't have to get old."
Carol Brady might be gone, but she was lucky. She did what she wanted, she never got old, and she gave millions of viewers a chance to have the mom they always wanted.