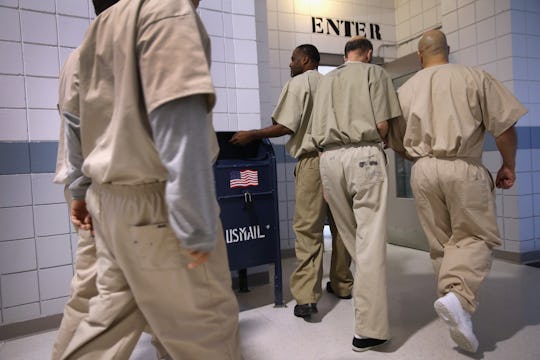 John Moore/Getty Images News/Getty Images
Food In Prison Is Bad Enough That Prisoners Are Trading Ramen As Currency
Who doesn't love ramen noodles? They're cheap, they're filling... and as it turns out, they're a hot commodity these days for people other than the college student/starving artist set. In fact, according to a recent study, in at least one state prison, the food was allegedly so bad that the prisoners had taken to trading ramen noodles as currency. There's even an "exchange" list that highlights the tradeoff value in ramen.
There was a time, not so long ago, when cigarettes, stamps, and envelopes were the currency of choice among inmates. According to a new study by the University of Arizona, desperate prisoners looking for nourishment have turned to the almighty ramen. The author of the study, PhD candidate Michael Gibson-Light, found that the terrible food quality in many state prisons brought on by severe spending cuts has inmates looking less for luxury and more for substance. Gibson-Light told The Guardian:
[Ramen] is easy to get and it's high in calories. A lot of them, they spend their days working and exercising and they don't have enough energy to do these things. From there it became more a story, why ramen in particular.
Gibson-Light's study included 60 prisoners being held at a state run prison (identified only as being in the Sun Belt region of the United States) with a population of approximately 60,000 inmates.
Gibson-Light's study found that the new barter system was taking place within different groups in the prison. While there is currently a tobacco ban in the prison system, that didn't appear to be the impetus behind the shift. Groups were reportedly bartering the noodles in exchange for clothing, personal hygiene items, and services like laundry and bunk cleaning. Other groups use the noodles for gambling on things like football pools.
A lot has changed in prisons since the beginning of the century, when prisoners were still able to expect three hot meals a day. Since that time, Gibson-Light found in his study, a private firm took over the distribution and preparation of food. The portions and quality of the food have allegedly decreased every year, with lunch removed on weekends and weekday lunches consisting only of, "cold cut sandwiches and a small bag of chips."
According to a worker at the prison who spoke with Gibson-Light, since the private firm took over, the food has allegedly gone downhill:
It's 1,000 times worse. They don't even let the cooks test it, 'cause it tastes that bad. They won't let us season it! Throughout the state, there needs to be some sort of sitdown strike to set it right.
The fight for ramen noodles inside the prison walls can often get dangerous, particularly when inmates get desperate. "I've seen fights over ramen," one inmate claimed. "People get killed over soup."
As the Department of Corrections tries to keep up with an ever-increasing prison population, Gibson-Light's study calls for more research into the long-term effects the poor food quality (and diminishing portion sizes) could have on prisoner care. As he pointed out in his study:
The form of money is not something that changes often or easily, even in the prison underground economy; it takes a major issue or shock to initiate such a change.