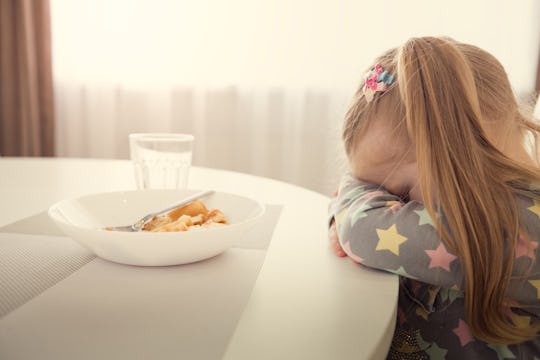 alexugalek/Fotolia
Stop Stressing About Your Kid's Eating Habits & Make A Food Routine Instead
Battling with kids at the dinner table seems like a pastime for every generation. Your kid only wants chicken nuggets or macaroni and cheese for every single meal, and you're torn. On the one hand, you just want them to eat already. On the other hand, will they turn into a chicken nugget? Surely they can't get all of their nutritional needs met on processed nugget-shaped meat alone. Thankfully, there is something you can try. According to pediatricians, there are benefits of having a food routine with kids when it comes to picky eating, and it may be the answer you need.
I was never a picky eater growing up. I'd eat whatever my parents cooked, which is surprising considering my dad would always make vegetarian food, including what he called "love" burgers (veggie burgers), and my mom would cook pork chops and spaghetti with meat sauce on the reg. My husband on the other hand, apparently hated red sauce for spaghetti, in addition to hating onions and bell peppers (much to his Italian mother's dismay), and would only eat his pasta with butter and salt. My friend in elementary school would only eat chicken nuggets from McDonald's, literally, for every single meal. Do any of these scenarios sound like what's going on in your home? There is hope, according to pediatricians.
Dr. S. Daniel Ganjian, a pediatrician at Providence Saint John's Health Center in Santa Monica, California, says to Romper in an email interview that establishing a routine is very helpful when it comes to picky eater kids. "It allows kids to anticipate that they will be given food soon and will have to eat it. Mentally it allows the child to be ready and not be caught off guard with the food. Furthermore, it causes the body to start releasing appetite hormones from the brain and digestive enzymes from the stomach so the body will enter eating mode."
One example of a food routine, according to Ganjian, is to "read a book about eating, have your child help or watch you set the table, use your child's favorite plates, put on a song, and place your child in her chair and sit down next to them and feed them (if they're young) or eat next to them to model the behavior you want her to copy."
Another routine you can instill, says Ganjian, is to encourage them to go grocery shopping with you, and, within reason, let them pick out what they like to eat. "Also ask them to help you with the cooking. When children are more involved, the more they will like to eat. Make a list of their favorite foods and keep it on the fridge so you will always have ideas for their meals," he explains.
Dr. Danelle Fisher, a fellow of the American Academy of Pediatrics and the chair of pediatrics at Providence Saint John's Health Center in Santa Monica, California, tells Romper, "For the extremely picky eaters, a good method to try is putting food on the plate you know they will eat, and then one bite of a food that you want them to try and that you as the parent are eating. So if it's a picky toddler that will eat a handful of Cheerios and one piece of string cheese, put that on the plate along with one bite of broccoli." She says to stick to this routine for days or even weeks, and it should pay off — eventually.
Ganjian agrees. "Picky eaters will generally open up to eating new foods, but it takes some time and effort," he says. "When trying to introduce a new food, try preparing in different ways (boiled, baked, fried, steamed), different shapes, and different sauces. Usually the same foods have to be offered 10 to 15 times, so hang in there!" Ganjian also agrees with Fisher about the routine of putting three types of food on the child's plate — two things they like, and one thing they don't. He adds, "Tell them they have to leave it on their plate and should just taste it or even lick it. For very picky eaters, start by telling them to touch the food or bring it to their lips. If they do as you ask, then they get a reward (sticker chart, praise, hugs)."
Even though it can be extremely stressful at times, it's important to make it a habit to not fight with your child about eating as part of your routine. "Allow your child to develop good feelings about eating and meal time," Ganjian says. "Children are adaptable as long as you have the proper tools and patience."
So it looks like creating a routine and sticking to it may help even the pickiest of eaters. Good luck to you. Perhaps daily chicken nuggets aren't always going to be in your future.