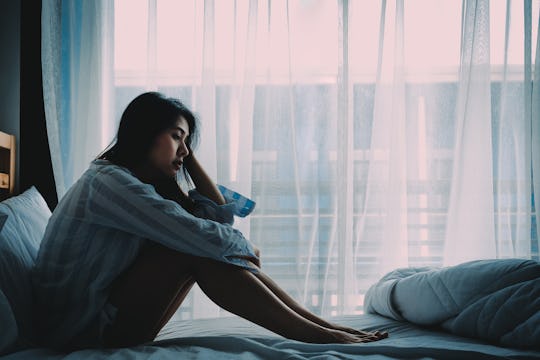 Fotolia
If You're Pregnant With A Migraine, & Tylenol Isn't Cutting It, Read This
"When I was pregnant with my third [child], I was working 80 hours a week on my feet as a chef and I would have such extreme migraines my nose would bleed, [but my] doctor would only approve OTC pain relievers," says Grace Alexander, 44, an American expat currently living in Uruguay. "Once, I had a migraine for 45 straight days without relief until the doctor finally allowed me to have butalbital." Migraines are torture under regular circumstances, with searing pain in your head, nausea and vomiting, light and sound sensitivity, and dizziness. But what happens when a migraine sufferer is pregnant, further complicating treatment?
That was the question asked by a recent study presented in June at the annual meeting of the American Headache Society. Two neurologists, Katherine Hamilton and Matthew Robbins, reviewed the treatment of 72 pregnant patients who visited the emergency room or obstetric triage area at Montefiore Medical Center in New York to report severe migraines. All of the patients ultimately received a neurology consult and a migraine diagnosis; treatments ranged from providing medications to administering fluids to performing a nerve block procedure.
Pregnant women suffering from migraines are given wildly different treatments in acute care settings, and there's not enough understanding among providers about what options may or may not be safe.
Since studying the effects of pretty much any health condition on pregnant patients raises ethical concerns, Hamilton and Robbins had to study the data retroactively. But what they found confirmed a long-held suspicion: pregnant women suffering from migraines are given wildly different treatments in acute care settings, and there's not enough understanding among providers about what options may or may not be safe.
"Due to the lack of studies, there are no specific guidelines for treating migraines during pregnancy," says Hamilton, who is currently working to develop a headache center at the University of Pennsylvania in Philadelphia. "We found considerable variability in treatment in the acute care setting, and also safe treatments that were underutilized."
According to the American Migraine Foundation, a woman with a history of migraines is actually less likely to experience them during pregnancy thanks to the increased levels of estrogen in her body. But that doesn't mean migraines are guaranteed to disappear completely — or even at all. The enormous hormonal changes that come with pregnancy can still trigger them, and there may be very few treatment options offered to women who start or continue experiencing migraines during pregnancy.
"I told my doctor about my migraines [during pregnancy] and was told to drink more water," says Lauren McCusker, a mother of two from Western Australia. "I was never offered any pain relief. I took paracetamol [Tylenol] because it was the only OTC (over-the-counter) pain relief I had access to that was safe during pregnancy, and tried resting in a dark quiet room."
OTC pain relievers that are largely considered safe to use during pregnancy, like Tylenol, are usually the first recommended treatment, but their effectiveness can leave a lot to be desired — especially if a patient's migraines are severe.
Treatment of migraines during pregnancy can differ from patient to patient, depending on their personal history of migraines and how far along they are in their pregnancy. But even for the same patient, the options can vary based on the individual healthcare provider who is treating them.
"When I told my OB/GYN about my migraines during my first pregnancy, she mainly told me to try to rest when I felt them coming on and do the best I could," says Ashley, 29 (who preferred not to give her last name). "During my second pregnancy, I had a different OB-GYN and she had me try acupuncture. It was very effective and stopped my migraines. I don't think my first doctor was very informed in all of the treatment options available for pregnant women with migraines."
Hamilton confirms that differences between providers is one of the major challenges in treating pregnancy migraines. "The treatment of a lot of things in pregnancy is very provider-dependent," she says. "Non-obstetric providers have a lot of discomfort about treating patients during pregnancy. Even neurologists [who specialize in migraines] have uncertainty and hesitancy about treating migraines in pregnant patients."
The overall lack of guidelines for treating migraines during pregnancy means that safe, effective options may not be offered to patients simply because providers aren't comfortable prescribing anything to pregnant women. In the MMC study, Hamilton notes, more than 30 percent of the patients presenting to the ER hadn't taken any medication — not even Tylenol — at home to treat their migraines, presumably out of uncertainty about the safety of OTC pain relievers.
If it's ongoing for days and you have to go to the ER, you might be prescribed opioids, which actually aren't very effective for migraines and have the potential for addiction or dependency.
But not all pain relievers or migraine drugs are incompatible with pregnancy. According to the study, a migraine drug called sumatriptan was underutilized in the acute care setting, despite being shown to be relatively safe for use during pregnancy; a 2010 review in Canadian Family Physician concluded that there was no increased risk of malformations associated with exposure to sumatriptan during pregnancy. At the same time, opioids and sedatives were commonly prescribed, which Hamilton says demonstrates the need to consider all available options more carefully.
"You don't want to expose yourself to potentially harmful medications," she explains, "but the side effects of a migraine can be debilitating, too. And if it's ongoing for days and you have to go to the ER, you might be prescribed opioids, which actually aren't very effective for migraines and have the potential for addiction or dependency."
Does all of this mean there's nothing you can do if you're pregnant when a migraine strikes? Thankfully, no. There are a few medication options (Tylenol and a medication called metoclopramide, or Reglan, are considered the safest, though, as stated above, sumatriptans may also be safe). And there are non-medication options, Hamilton notes, that can be very effective.
"A nerve block procedure is thought to be quite safe since it uses local anesthesia which doesn't reach the baby, but it's not used frequently because not all providers have experience with it," she says. "Those procedures are done at headache centers but also often at pain clinics, which are more commonly located around the country, and may be an option for some patients."
Above all else, don't be afraid to advocate for yourself if your migraines are severe or your provider isn't sufficiently addressing your symptoms. An expectant mother coping with migraines is likely suffering, and may even pose a health risk to her baby if she becomes dehydrated or can't keep food down. Avoiding treatment is not always the best or only solution--the pros and cons of various treatments should be weighed between a patient and her doctor.
"A lot of pregnant patients are told 'You don't have any options, so just take Tylenol and drink water,'" Hamilton says. "But you should press your doctor if your migraines are severe. Ask them if they know any other local specialists for referral. Ask them to research the medical literature. Ask them about the non-medication options like acupuncture and nerve blocking."
In an ideal world, there would be more communication and partnership between obstetric and neurology specialists, and a set of recommended guidelines would exist for treating migraines during pregnancy. Until that happens, though, a pregnant patient's best recourse to treating migraines is to open up a consistent dialogue with her doctor about her migraine experience — and keep communicating until a satisfactory solution has been found.