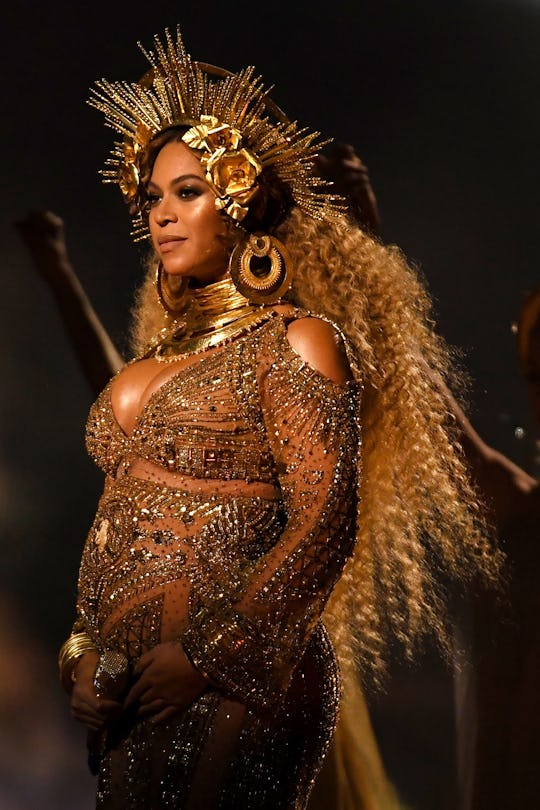 Kevork Djansezian/Getty Images Entertainment/Getty Images
"Formation" Was Snubbed & Everyone Is Mad As Hell
Beyoncé killed it at the Grammys, this we know for sure. Her performance on Sunday night was so moving, so powerful, so theatrical, that it moved many of us to tears. But the crying quickly turned to tears, especially when "Formation" was snubbed by the Grammys. Now the Beyhive is mad... and nobody wants to deal with an angry Beyhive.
"Formation" did win Best Music Video before the show even got under way, which seemed like a pretty good sign. She lead the pack for Grammy nominations this year, leading all of her "competition" with nine total nominations for the visual album Lemonade. If she had managed to sweep up eight of her nine nominations, Beyoncé would have won more Grammy awards than any other woman in history, but it was not to be. "Formation" did not win Song of the Year. The trophy went to Adele for "Hello." And I'm not going to lie, guys; people are angry. Sure, Beyoncé won Best Music Video and Best Urban Contemporary Album (for Lemonade), but the loss of Song of the Year felt like yet another snub for the Queen, who showed up, performed hard while pregnant with twins, and essentially gave the Grammys the ratings they needed (especially when other big name headliners like Kanye West, Frank Ocean, and Justin Bieber — all of whom reportedly boycotted).
One thing should be made clear, however: nobody is speaking ill against Adele. The artist is talented from her toes to her eyeballs; she is real and kind and supportive of other women in the best sort of way. Exhibit A; check out the lemon pin she wore with her Grammys dress (in honor of Lemonade, to dispute the whole "Adele and Bey go toe-to-toe feud the media was trying to whip up?). Adele deserved to win — but the Beyhive just doesn't like losing. and it makes sense.
And let's not forget Adele mouthing "I love you" to Beyoncé when she won.
Both performers brought it on home at the Grammys on Sunday. Both slayed in their own way, with their own specific brand of artistic integrity. As our fave Chrissy Teigen pointed out:
And it's important to remember that, while Adele won Song of the Year, Album of the Year is still up for grabs. That no matter what happens at the Grammys, Bey is still going to bless us with twins. That we got to sit through her incredible performance. Basically... let's not forget to simply be happy that Beyoncé exists, and that we have ears to hear her. The world is good.