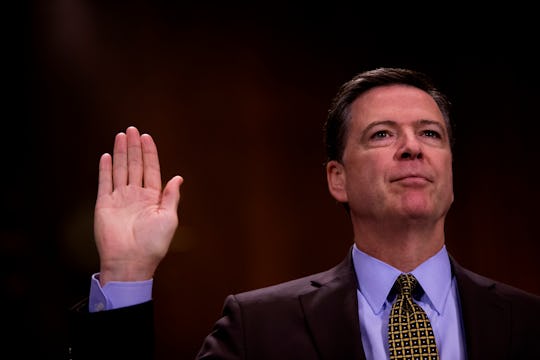 Eric Thayer/Getty Images News/Getty Images
Comey May Testify Publicly Before Congress
President Trump fired former FBI Director James Comey on Tuesday, claiming he did so based on the recommendations given to him by both Attorney General Jeff Sessions and newly minted Deputy Attorney General Rod Rosenstein. Comey found out he was fired by seeing it on TV (the president sent a letter to his Washington office shortly after the fact). Comey's dismissal came during a pivotal investigation into the Trump administration's possible involvement with Russia during the election. The former director has stayed silent. But Comey is reportedly willing to testify before Congress, as long as his testimony is given in public.
Romper has reached out to the White House and the FBI for comment and is awaiting a reply.
The New York Times noted on Friday that Comey declined an invitation to testify before the Senate Intelligence Committee on Tuesday. However, a close associate of Comey's told the news outlet that the former director would be willing to testify in the future. He would simply like his testimony to be public. Considering the murky circumstances surrounding his dismissal, not to mention the unusual behavior coming out of the White House in the aftermath of Comey's firing, it seems like a reasonable request. Particularly in the wake of President Trump's Twitter rant on Friday, when he appeared to openly threaten Comey over some alleged "tapes."
After Trump sent his tweet, he was issued a letter by Democratic Reps. John Conyers Jr. of Michigan and Elijah E. Cummings of Maryland, both members of the judiciary and oversight committees. This letter asked for any tapes that Trump might be holding and reminded the president:
it is a crime to intimidate or threaten any potential witness with the intent to influence, delay or prevent their official testimony.
White House Press Secretary refused to say whether or not these tapes existed, but said the president had not threatened Comey in his tweet.
That's not a threat. He simply stated a fact. The tweet speaks for itself. I'm moving on.
Trump also spoke to NBC News' Lester Holt about Comey on Thursday, changing his original story that he fired the director based on recommendations made to him (and after White House Press Secretary Sean Spicer appeared to plant the entire dismissal squarely on the shoulders of Deputy Attorney General Rosenstein, according to The Independent) and admitting he had been considering Comey's dismissal for some time.
As for Comey's reaction to his dismissal; he has been laying low. He released a letter of farewell earlier this week to staff of the FBI, which read in part:
I have said to you before that, in times of turbulence, the American people should see the FBI as a rock of competence, honesty, and independence. What makes leaving the FBI hard is the nature and quality of its people, who together make it that rock for America.
Comey was hired in 2013 by President Obama, and was previously considered a stalwart example of a nonpartisan officer of the law.