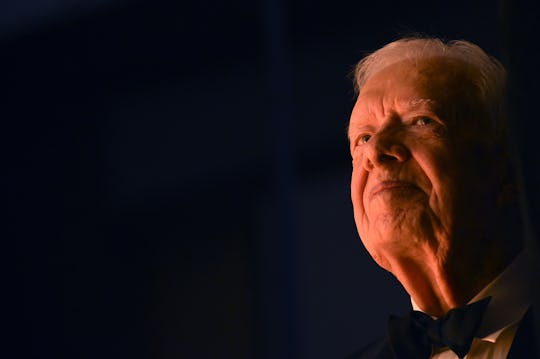 Former President Jimmy Carter Is Cancer-Free, Continues Being Source Of Inspiration
When word first got out that Jimmy Carter's cancer had spread to his brain, many wondered how the former U.S. president would manage. After his initial diagnosis, Carter himself believed he would only have a few more weeks left to live. But the 91-year-old has managed to beat the odds — Carter announced he is now living cancer-free.
Carter was first diagnosed with melanoma earlier in the year, and even underwent surgery to remove a mass on his liver. He began regular radiation treatments several months ago and in August began a new drug known as Keytruda in the hopes that it would prove effective.
Then last week, the 39th president went in for an MRI, which revealed that he no longer showed any traces of cancer in his body. Carter first made the incredible announcement to the Sunday School class he teaches weekly at Maranatha Baptist Church in Plains, Georgia. He later released an official statement letting the public know the good news, and his plans to continue the treatment that has inevitably saved his life.
Considering the amount of humanitarian work the Nobel Peace Prize laureate has done since he left the White House back in 1981 and his ability to beat cancer in his 90s, we have no qualms about calling Jimmy Carter a truly amazing man.
Carter has been giving back to the community at large for decades, even while in office. He's the man responsible for the creation of the Department of Energy to, in his words, "alleviate the consequences of inevitable shortages of oil and gas and other energy supplies." Ahead of his time, he even installed solar panels on the White House (which were subsequently removed by President Ronald Reagan, and finally re-installed by President Obama).
He also created the Carter Center, his non-profit organization which focuses on human rights initiatives, election observations, creating dialogue, and strengthening relations between opposing nations, not to mention a slew of health initiatives to fight preventable diseases like malaria, trachoma, and river blindness. It's because of Carter's tireless efforts that Guinea worm disease, which at one point affected 3.5 million people in Asia and Africa, has recently only seen 126 cases.
Additionally, Carter and his wife of 69 years, Rosalynn, have volunteered with Habitat for Humanity since 1984, through which the pair have renovated and built houses for those in need. Since then, they created the Jimmy & Rosalynn Carter Work Project for Habitat for Humanity International, through which they spend a week each year improving and building homes all over, from Haiti to Colorado.
The former president has also had plenty to say in regards to women's rights and equality in general. In the past, he has stated that "the abuse of women and girls is the most pervasive and unaddressed human rights violation on earth," and has compared gender inequality around the world to the type of racism he saw for himself in the U.S. South as a child. You can read more inspiring Jimmy Carter quotes on women here.
Carter's relentless commitment to philanthropy is beyond admirable. With his cancer beaten, we can't wait to see what he does next.
Images: Michael Loccisano/Getty; Giphy (3)