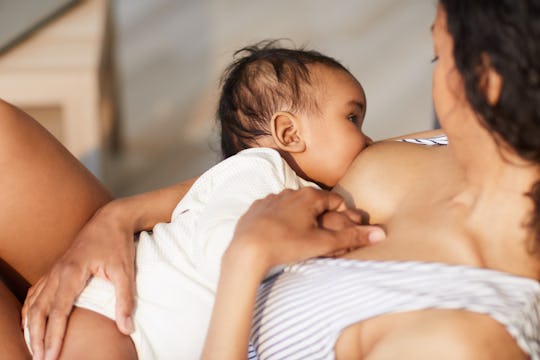 Shutterstock
10 Free Online Breastfeeding Courses You Can Take Even Before Baby Arrives
There's no manual for motherhood. All moms need support, especially when it comes to breastfeeding. Lactation consultants can cost a pretty penny, and it's not something you'll likely think about until you've already had your baby and are at your wits end. Learning as much as you can about nursing before your baby arrives can help you navigate stressful nursing sessions and there are free online breastfeeding courses available that are worth taking advantage of.
I know what you must be thinking: You're going to take breastfeeding as it comes. You don't really need to sit down in front of a computer to watch a bunch of videos about it. I get it, but breastfeeding courses are extremely beneficial. A 2017 study in the journal Minerva Pediatrica found that women who took prenatal breastfeeding courses breastfed longer than those who did not.
Breastfeeding courses can teach you things you might not know (which, honestly, is probably a lot), offer some sense of support, and ultimately make things easier for you. Breastfeeding is a commitment. Sometimes you need help getting through it, and there is nothing wrong with that.
Add some of these free breastfeeding courses to the list of things you're currently doing online — like grocery shopping, laughing at funny memes, and planning the nursery decor on your Pinterest board. These 10 breastfeeding courses range from technical tutorials by certified lactation consultants to practical tips from experienced breastfeeding moms. They're all free, so pick the one that's best for you, or go ahead and sign up for all of them.