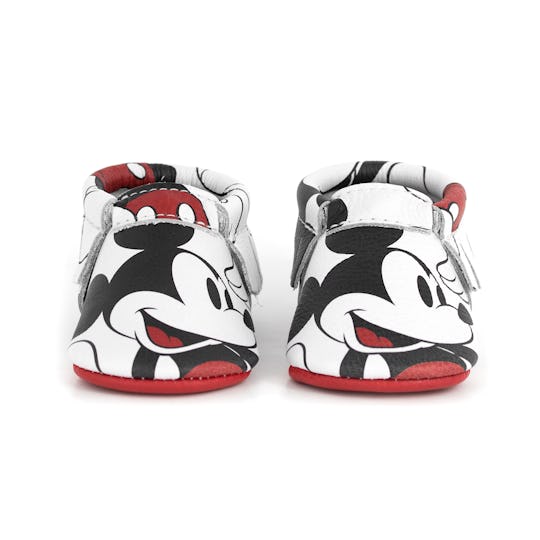 Freshly Picked
Freshly Picked Has Just Released A Disney Line Of Moccasins & OMG
One browse through your Instagram feed and you're most likely going to stumble over a few things — someone's house decorated entirely in white, food, and an adorable baby in a delicious pair of moccasins. Freshly Picked is the company behind those sweet moccasins and their collection of metallics, fringed, and tiny bow moccasins have quickly become a favorite of parents all over the world, including celebrities like Gwen Stefani and Jessica Alba. But those shoes are about to get a whole lot cuter thanks a collaboration with Disney. So where do you get the Freshly Picked Disney moccasins?
Collective Oprah audience scream here? Let's do it, because you guys, if Disney is the dream and soul of childhood, then Freshly Picked shoes are the foundation your little ones need to run away with their imagination. In six different styles, the Freshly Picked Disney moccasins represent some of your little ones' (and your) favorites. There are two different Mickey Mouse styles, two Minnie Mouse styles, a Pluto style (my 3-year-old daughter's favorite), and a Donald Duck style. Available in sizes one to seven (the Freshly Picked sizing guide can help you decide which one your kid needs), the moccasins retail at $60 a pair and were co-created by both Disney and Freshly Picked, which means you're getting the real ~magical~ deal here. And easily enough? You can pick them up right on Freshly Picked's website.
The especially good news? While this is a brand new launch, that doesn't mean these styles are in a limited release. The Disney Freshly Picked styles will remain in stock until they sell out and then? Freshly Picked tells Romper they'll simply be restocking them. There are few things worse than finding an item you really love and having it swept out from under you in an online shopping warfare. Mickey, Minnie, and the gang will be in Freshly Picked's store as of Nov. 20 and will remain there for the foreseeable future. Which means you don't have to buy a pair in every newborn size for the babies you don't have yet like I was planning on doing.
Whether you're heading to Disney World or rocking these new moccasins with your child's favorite pair of overalls, this collaboration is the perfect addition to your kid's closet. The truly best part is that Freshly Picked moccasins are known for standing up to the wear and tear of children. They are all handmade and created from 100 percent genuine cow hide leather, which means you're absolutely getting what you pay for.
If you're still on the fence about how well the shoes are made, the Amazon reviews can give you peace of mind. With 89 percent of reviewers leaving five stars for the traditional soft sole leather moccasin, it's a safe bet that the Disney collaboration will be just as loved.
There's even more exciting news this week from Freshly Picked — a sale from Nov. 20 through Nov. 27 that includes 25 percent almost everything from the Freshly Picked line. (Unfortunately, the Disney collaboration and their new diaper bag are not included.) That means if you're looking for some classic pieces, such as the Chelsea boots or bow moccasins, you can enjoy a bit of a discount. During the same week, Susan Petersen, Freshly Picked's founder and CEO, will be doing an advent calendar each night at 8 p.m. to announce a fun surprise of the day.
Whether this is your little one's first pair of Freshly Picked shoes or if the Mickey ears are joining a tiny moccasin collection in your home, one thing's for sure — this collaboration screams childhood in every possible way, and it's bound to make your kids as happy as you are.
Check out Romper's new video series, Romper's Doula Diaries:
Watch full episodes of Romper's Doula Diaries on Facebook Watch.