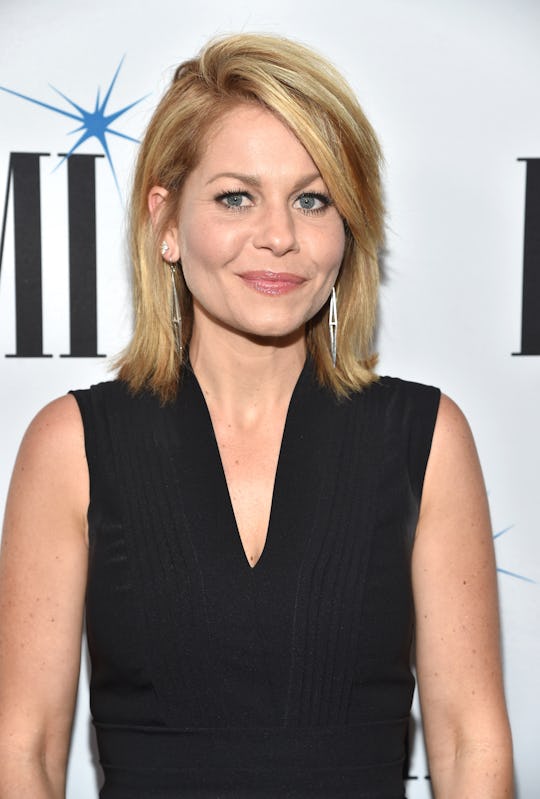 Frazer Harrison/Getty Images Entertainment/Getty Images
Candace Cameron Bure Opens Up About How She Talks To Her Kids About Sexual Harassment
Everyone needs to talk to their kids about sexual harassment at some point, this we know for sure, but it seems especially prescient in light of recent events. After disgraced former Miramax producer Harvey Weinstein was accused of sexual harassment and assault spanning several decades, a door opened. Women (and some men) have come forward with their own stories of sexual harassment, and the circles continue to widen. More allegations come out every day, and it becomes plainer with each story that sexual harassment has become an epidemic. Which could be why Fuller House's Candace Cameron Bure talked to her kids about sexual harassment.
As impossible as it might be to believe, Cameron Bure has three teenagers at home; 18-year-old Natasha (who recently competed on The Voice and will be co-starring in a Hallmark Christmas movie with her mom this season), 17-year-old Lev, and 15-year-old Maxim. And having teenagers comes with "The Talk," of course; about sexuality, and perhaps even more importantly, about how to deal with sexual harassment or inappropriate behavior. Cameron Bure has already taken the bull by the horns a while ago, apparently, as she told E! News during a recent interview:
My daughter is in the industry so those are conversations that we have and really that I've been having with my children since they were young because that's what parenting is about and helping them be secure with who they are and having moral boundaries and knowing what's right and what's wrong and what's appropriate for people to ask of you and not and not to be afraid to speak out.
Cameron Bure has been a fixture in Hollywood ever since she was a child; first playing D.J. Tanner on Full House, then starring in several made-for-TV movies throughout the years before reappearing as grown up D.J. in Fuller House on Netflix. She did take a hiatus to focus on being a wife and mother; she married Russian hockey player Valeri Bure in 1996, when she was just 20 years old, and had all of her three children by the time she was 24 years old. Despite her many years in Hollywood, Cameron Bure told E! News that she did not experience any of the sexual misconduct that has so frequently been reported lately.
But that doesn't mean Cameron Bure wants to turn a blind eye to the situation, as she told E! News:
I can't imagine. It's horrific listening to all the stories. Thinking about what so many women have gone through and the courage they have to come out as well. I'm glad it's all being exposed and I hope that we can eventually put an end to it.
The mother of three also opened up about the recent firing of Today Show stalwart Matt Lauer from NBC News. Lauer was reportedly fired after a colleague came forward with sexual misconduct allegations, and since that initial report, there have been more accusations, according to Variety. Cameron Bure, who is the younger sister of former Growing Pains star Kirk Cameron, said she was "shocked" by the allegations against Lauer:
Shocked like the rest of the world but we don't know people personally and what happens behind closed doors so we'll just wait for more details, but very sad.
It's such a time of massive change right now, a time when the old way of dealing with sexual harassment (silence and shame) is hopefully finally coming to an end. All any parent can do is hope for better for their own children. And that's exactly what Cameron Bure is doing. She admitted to E! News that "as a mom, the only thing you can do is pray" that her children won't have to deal with this sort of thing.
Check out Romper's new video series, Romper's Doula Diaries:
Watch full episodes of Romper's Doula Diaries on Facebook Watch.