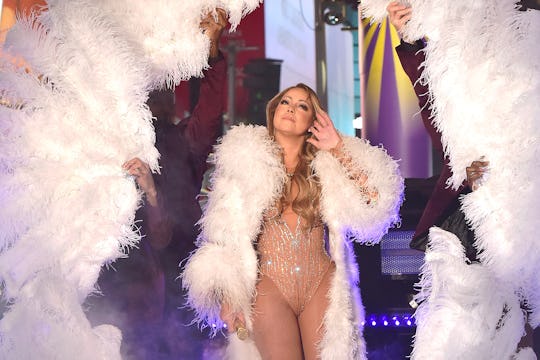 Eugene Gologursky/Getty Images Entertainment/Getty Images
Funniest Reactions To Mariah Carey's NYE Set
Mariah Carey may reign almighty at Christmastime with iconic hits like "All I Want For Christmas Is You," but New Year's Eve got the better of her as she experienced a major on-stage malfunction while bidding 2016 adieu. The pop superstar stumbled through her set at Dick Clark's New Year's Rockin' Eve because of what appears to have been a totally debilitating series of technical difficulties, and, of course, the internet had a lot to say about it. The funniest reactions to Mariah Carey's New Year's Eve performance range from poking fun at the singer's having to end her show after strutting around stage asking the audience to sing for her, to a resigned recognize that of course this is how 2016 would end.
But even though the live performance certainly was a disaster any way you look at it, Mimi confronted the criticism afterwards with what amounted to an epic shoulder shrug. "Shit happens," she tweeted gamely in response to a debacle so far gone that she barely even pretended to lip sync along with a recording to "We Belong Together." "Have a happy and healthy new year everybody! Here's to making more headlines in 2017"
On stage in Times Square, though, Carey was visibly frustrated, imploring technicians to "get these monitors on, please" (it was pretty obvious she couldn't hear her backing track through her ear piece) and at one point telling the audience "I'm trying to be a good sport here."
But just as the last moments of 2016 were not kind to Carey, some of those watching her performance, slack jawed and disbelieving, at home were similarly relentless. There were (purely speculative) jabs at her perceived level of preparedness...
...as well as less forgiving predictions that NYE marked the end of the 46-year-old Grammy-winner's career:
Others were more than a bit convinced that, given Carey's epic fail, they could take over as singing sensations, too:
And for at least one Twitter user, Carey's uncharacteristically bad performance showed that we all have our flattering moments — and others that are much, much less so:
But, mostly, the unexpectedly but intensely awful show that Carey delivered was purely emblematic of a year full of unpleasant political surprises, devastating celebrity deaths, and all-around terribleness:
The encouraging aspect of the rough performance, though, it that it happened before the ball dropped, and not after the east coast catapulted into 2017. So, let's leave it squarely where it belongs: in the past.