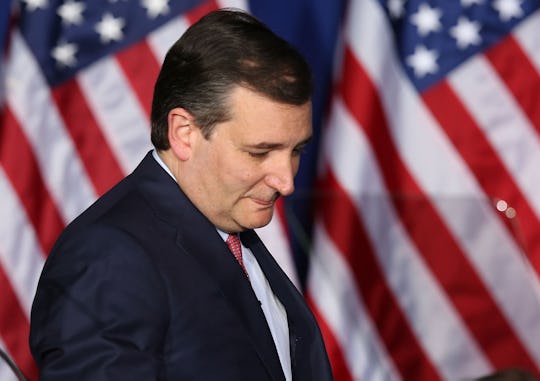 Joe Raedle/Getty Images News/Getty Images
Funniest Tweets About Ted Cruz Dropping Out Show Twitter's Got Jokes
After losing hours earlier in Indiana — a state he needed to stay afloat in the presidential race — Ted Cruz dropped out of the GOP race for the presidential nomination. And, like we've all come to expect, Twitter had the best reaction. The funniest tweets about Ted Cruz dropping out reveal all sorts of hilarious, off-the-cuff jokes about the candidate who dominated social media in recent weeks due to the fact that Cruz resembles the "Zodiac Killer."
Speaking from Indianapolis, Cruz's concession speech was full of well-earned pride and praise for his fellow candidates, as well as heartfelt thanks to his voter base, his running mate, and, most importantly, his family:
From the beginning I've said that I would continue on as long as there was a viable path to victory. Tonight, I'm sorry to say, it appears that path has been foreclosed. Together, we left it all on the field in Indiana. We gave it everything we've got. But the voters chose another path. And so, with a heavy heart but with boundless optimism for the long-term future of our nation, we are suspending our campaign. But hear me now: I am not suspending our fight for liberty.
Americans are deeply frustrated and want to change the path that we're on. When we launched this campaign 13 months ago, we saw a movement grow. Thank you to each of you incredible patriots. I am so grateful to you... Thank you to each of you and God bless you.
Is This How Trump Reacted?
Ted Cruz: Out Of Sight, Out Of Mind
Oh. Ted. No.
So, About Those Zodiac Killer Rumors...
...And Those Count Dracula Rumors
#Same