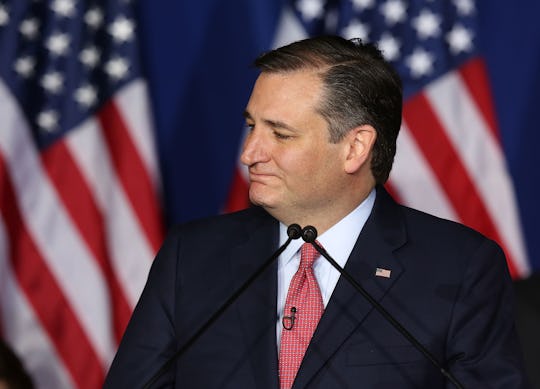 Joe Raedle/Getty Images News/Getty Images
Ted Cruz's Concession Speech Transcript Shows He Left The Race On A Respectable Note
After months of challenging businessman Donald Trump's play for the Republican presidential nomination, Trump's main opponent dropped out Tuesday night, and Ted Cruz's concession speech transcript shows his final remarks of the campaign were among the most respectable of the whole race.
According to Politico, Cruz put tremendous effort into winning the Indiana primary Tuesday night: TV spots, a bus tour, many appearances on Sunday political news programs. Even so, he didn't prevail. The Huffington Post noted that Donald Trump won even among the state's social conservatives, who were thought to support Cruz.
Until the last hours of the primary, Cruz promised to stay in the race until June 7, according to CNN, and he certainly seemed to be fighting. He announced his running mate, Carly Fiorina, earlier in the week, and in a news conference earlier Tuesday, Cruz called Donald Trump a "pathological liar" and "a narcissist at a level I don't think this country's ever seen" as well as "a serial philanderer," CNN reported. Still, when he conceded the race Tuesday night, that name-calling was absent. In fact, he didn't mention Donald Trump at all.
Speaking in Indianapolis, Cruz told supporters:
From the beginning I've said that I would continue on as long as there was a viable path to victory. Tonight, I'm sorry to say, it appears that path has been foreclosed. Together, we left it all on the field in Indiana. We gave it everything we've got. But the voters chose another path.
And so, with a heavy heart but with boundless optimism for the long-term future of our nation, we are suspending our campaign. But hear me now: I am not suspending our fight for liberty.
Americans are deeply frustrated and want to change the path that we're on. When we launched this campaign 13 months ago, we saw a movement grow. Thank you to each of you incredible patriots. I am so grateful to you...
Thank you to each of you and God bless you.
Donald Trump also spoke Tuesday night, from New York City. He praised Trump as an opponent and said Cruz has an "amazing future."