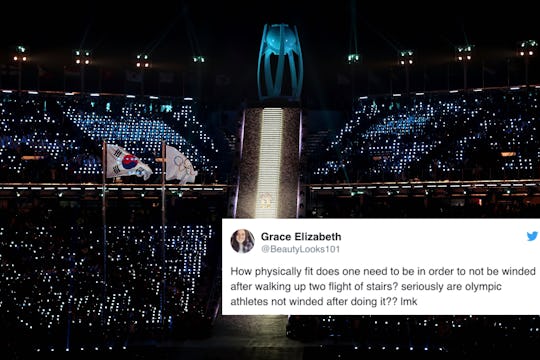 Jamie Squire/Getty Images Sport/Getty Images
Twitter Is Amazed By The Stairs At The Opening Ceremony
The 2018 Winter Games in PyeongChang, South Korea on Friday had no shortage of interesting surprises, to say the least. One of those unexpected moments involved the stairs at the Opening Ceremony, a very steep and long staircase which was quite mind-boggling. I mean, do Olympians really need to prove their athleticism via an American Ninja Warrior-style staircase? Probably not. Of course, I'm not complaining here. The confusing mountain of steps generated many funny tweets and as per usual, the internet is killing it with the jokes.
The Opening Ceremony really boils down to pomp and circumstance. The highly-anticipated portion of the Olympics involves a lot of players and important traditions, including the ceremonial lighting of the Olympic torch. I guess South Koreans wanted to up the ante this year, because they had the designated torchbearers, South Korean hockey player Park Jong-ah and North Korean hockey player Jong Su-hyon, run up the massive flight of the stairs to reach the torch, according to Teen Vogue. Once Jong-ah and Su-hyon finally made it to the top, they passed the torch to South Korean figure skating pro Yuna Kim so she could light the Olympic cauldron.
Although a flight of stairs might seem like nothing to a couple of Olympians, it's important to note here that Jong-ah and Su-hyon are also competing in the Winter Games. Impressive, right? One can only hope that Jong-ah and Su-hyon will get to rest their legs before they compete.
Following the elaborate spectacle, many people took to Twitter to express their *thoughts* about the mind-boggling stairs.
Some People Were Impressed
Other People Got Winded Just From Watching
Most People Were Just Confused
So, I have a few theories about the stairs. Bear with me, for a second.
For starters, I think the stairs (which I find terrifying, FYI) are symbolic of North and South Korea's journey to reunification. Similarly to the long path of stairs, North and South Korea have a long way to go to achieve piece. I mean, North and South Korea have been at odds for decades. Reunification is an uphill battle, to put it mildly, and it will take a lot of determination from both North and South Korean officials to make it work.
My theory holds up when you consider that the Olympic Games Organizing Committee and South Korea chose North Korean and South Korean torchbearers to kick off the Opening Ceremony. The metaphor can't get be any more clear, really. Jong-ah and Su-hyon bolting up the stairs in matching outfits paints a picture of unity, the presumed goal of North and South Korean officials.
I mean, the president of PyeongChang Organizing Committee, Lee Hee-beom, basically said as much.
Hee-beom said of the Olympic Torch's intended design, according to the Olympic Games' website:
With its beautiful design and technical features, the PyeongChang 2018 Olympic Torch will become a symbol of excitement and inspiration of the Olympic Games. The Olympic Torch Relay will bring the spotlight to PyeongChang, sparking passion to connect the world together.
Apparently, a few people agree with my assessment:
Still, could no one come up with a better plan to demonstrate unity? Like I mentioned earlier, I'm not sure why the ginormous staircase was even a thing. It ended up being more of a distraction in the end and I'm not sure if the intended message got across.
Yet, while I'm not a fan of the stairs, I am a fan of the obvious effort and planning that went into the Opening Ceremony. From the impressive fireworks display to the drone light show (yep, drones are being used for light shows now), I was captivated. I tip my hat to the people who spent years organizing this event, stairs and all.
Check out Romper's new video series, Romper's Doula Diaries:
Watch full episodes of Romper's Doula Diaries on Facebook Watch.