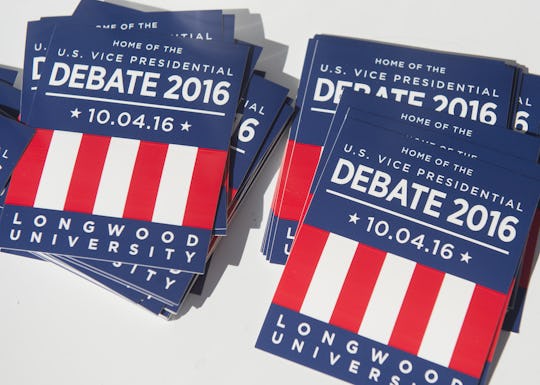 SAUL LOEB/AFP/Getty Images
Funniest Vice Presidential Debate Tweets Predict An Amazing Battle Of America's Dads
With just 34 days until the general election, voters have heard plenty about their presidential options — some candidates dominating the airwaves more than others. On Tuesday, America will get to know a little more about the two men who are potentially a heartbeat away from the presidency themselves during their sole Vice Presidential Debate. America won't just be watching; they're following along on social media, too which, of course means rounding up the funniest vice presidential debate tweets. All of the astute political commentary you could ever want or need can be found on Twitter with the #VPDebate hashtag. And if Tuesday night is going to be anything like the first presidential debate between Clinton and Trump, you're going to need to hit refresh like whoa to keep up with the Twitter hilarity.
First, let's meet tonight's players in the debate that some have already dubbed the "Battle of the Dads" online. In Clinton's corner is Virginia's former Governor and current Junior Senator, Tim Kaine: He's tough on gun reform and boasts a substantial political record as Virginia's Governor. In Trump's corner is Tea Party Governor with quite the record of his own: Indiana Governor Mike Pence. Unfortunately, Pence's record is a bit more notorious than Kaine's, with especially conservative policies on same-sex marriage, reproductive choice, and religious freedoms. Sure, we could track official polling all night to see which VP will come out on top — but when it comes to Twitter, it's anybody's game tonight.
Wait, did I say anybody's game? Not according to the GOP, who declared Pence as the debate winner 90 minutes before tonight's debate even started... #awkward.
Right, so back to the whole "Battle of Dads" theme:
Besides the Battle of the Dads, Twitter has given the vice presidential debate plenty of nicknames already — and here's where Twitter folks are holding no punches tonight:
And what about how Kaine and Pence look this evening — besides almost indistinguishably Caucasian?
Oh, and then there was that whole thing with the tie colors...
While there might be some Jedi mind trick color psychology at work with Kaine wearing red and Pence wearing blue, Twitter plenty to say about it:
And all these tweets don't even get into the meat of Tuesday's debate: the actual issues themselves, which are no laughing matter. Hilarious tweets aside, just a quick reminder this is the future of the country we're talking about — and, at the rate this election is going, laughter is just about the only thing keeping America going right now.