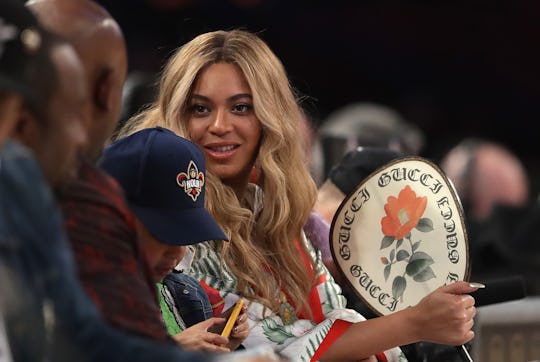 Ronald Martinez/Getty Images Sport/Getty Images
These Beyoncé Twin Memes Will Get Fans In Formation
On Saturday night, Us Weekly broke the news that Beyoncé has reportedly given birth to twins. Unsurprising, the news sent Twitter into a tailspin and inspired plenty of funny Beyoncé twin memes to help celebrate the joyous occasion. Not much is known yet in regards to the twins themselves, including their names, but multiple sources have told Us Weekly that Beyoncé did, in fact, give birth earlier this week. These two new additions to the Beyhive join Bey and Jay Z's first daughter, Blue Ivy, who is currently 5 years old. Romper reached out to Beyoncé's rep for comment regarding the birth of the twins, but did not hear back at the time of publication.
The Lemonade singer, who is 35, initially announced her pregnancy in an unforgettable Instagram post back in February with the caption: "We would like to share our love and happiness. We have been blessed two times over. We are incredibly grateful that our family will be growing by two, and we thank you for your well wishes."
Fans knew it was only a matter of time until the twins arrived. I like to think we were all collectively on "Beywatch." (Get it?) In fact, Beyoncé's father, Mathew Knowles, hinted back in late May that the birth was still a couple of weeks away, so the timeline certainly seems to match up. Beyoncé and Jay Z have yet to confirm the news themselves, which has made fans somewhat wary as to what to believe. Those who are choosing to believe the numerous reports, however, are making good use of their time on Twitter...
Of course, the biggest takeaway fans have picked up on so far is the fact that, due to the time frame the twins were reportedly born in, makes their astrological sign Gemini, meaning Beyoncé has given birth to not just twins — but Gemini twins. Something that many people were quick to pick up on.
More and more memes and tweets are sure to crop up as further information is revealed, but I have no doubt that Beyoncé and Jay Z are beyond thrilled to finally welcome their two new bundles of joy. In the meantime, the rest of the world will be staring at their phones, eagerly awaiting for Queen Bey herself to release a statement — or better yet, a photo — of the twins that we can obsess over for weeks (oh who am I kidding), for YEARS to come.