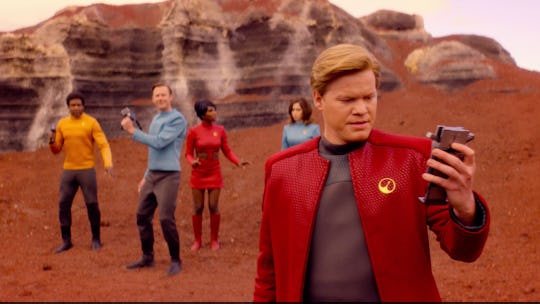 Netflix
The One 'Black Mirror' Episode From Season 4 That Twitter Can't Stop Talking About
If you aren't watching Black Mirror Season 4's episodes in order, then you're definitely missing out. While not all of the stories have uplifting endings, the least you can do is watch them in the order they were intended, if only to start the season off on a visually interesting episode like "U.S.S. Callister." And all of the hilarious tweets about Black Mirror's "U.S.S. Callister" show just how much of an impact the episode had on viewers. It definitely had the classic Black Mirror twist, but that's a big part of what made fans love it so much.
Captain Robert Daley (played by Jesse Plemons) was at first shown as a shy and misunderstood genius who is too timid to really act as a boss figure. Of course, as the episode went on to reveal more about him, viewers quickly realized that he had his own way to escape the monotony and sadness of his real life existence. Similar to the "cookie" technology shown in Black Mirror's "White Christmas," Robert used DNA from his co-workers to create a fictional world that he could escape into. The fantasy realm was inspired by his favorite TV show, Space Fleet — which, as you can imagine, is supposed to be a direct parallel to Star Trek.
Suffice to say, it was a concept that many fans absolutely loved, and I can't say I blame them. It also led to some pretty amazing tweets that perfectly sum up everyone's collective obsession with this episode.
Whether "U.S.S. Callister" scared the hell out of you or made you wish more than ever that some of the technology of the Black Mirror universe was real, it was definitely the perfect episode to start off Season 4, especially since the ending was satisfying enough and left you wanting more.
Before Season 4 premiered on Netflix, creator Charlie Brooker teased that there would be more moments of humor in the season, and while "U.S.S. Callister" is far from a comedy, it did offer some comedic moments, like when Robert's real life friend and the co-owner of their company, Walton (played by Westworld's Jimmi Simpson) slapped the smoothest area of his body where his genitals had once been. Side note — I'll not soon get that image out of my mind.
But as one Twitter user pointed out, the video game of "U.S.S. Callister" kind of puts things in perspective for those of us who may have once spent several hours a day playing The Sims on our computers.
It's not really surprising, then, to learn that there's already talk about "U.S.S. Callister" being a Black Mirror episode that Brooker comes back to in the seasons ahead, at least according to the episode's director, Toby Haynes. "Whether I'm the one to do it, I don't know," Haynes told Vanity Fair. "Being a fan of the show as much as I am, and being a part of making it, I'd love to work with that crew and cast again. It's a gift for a director." Do I smell a spinoff in the works?
There are certainly some Black Mirror episodes that are too sad or bleak to revisit, at least not very soon after, but "U.S.S. Callister" is one that I'm already ready to rewatch again and it will surely earn a spot on many fans' list of favorite Black Mirror episodes so far. In a way, you almost wish they would have saved it for last, but it was probably the perfect way to start off the fourth season.
Check out Romper's new video series, Romper's Doula Diaries:
Watch full episodes of Romper's Doula Diaries on Facebook Watch.