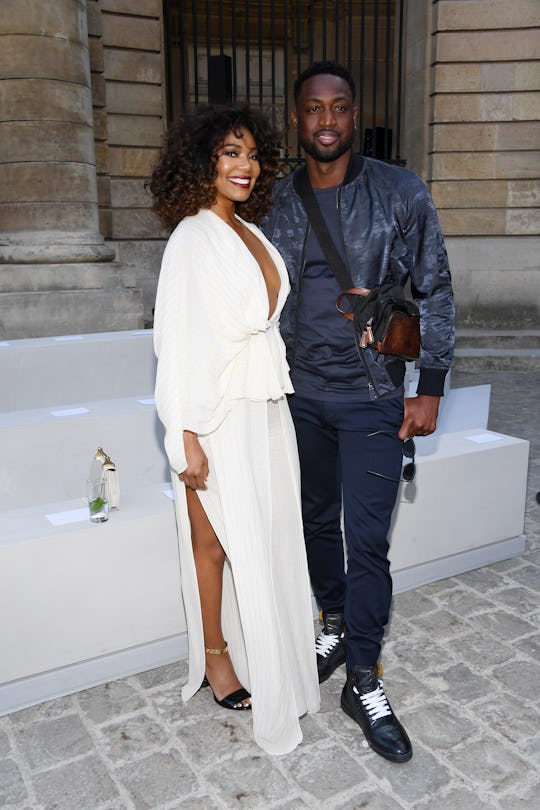 Pascal Le Segretain/Getty Images Entertainment/Getty Images
Even Gabrielle Union & Dwyane Wade Have To Schedule Time For Sex
When you're young and first start having sex, a lot of the fun lies in the spontaneity of the act. Having to actually schedule sex, or plan around life, seems totally out of the question. That's until you get into a long-term relationship, of course, or have kids. Then, it's often the only way you can find time for it. It's not just us regular folk that have to mark our calendars to check ovulation periods or nights without the kids around — celebs do it, too. For example, this week, Gabrielle Union opened up about scheduling sex with her husband, Dwyane Wade, around their other obligations. And seriously, it's a nice reminder that happy relationships take actual work.
During an appearance on Watch What Happens Live this week, Union told Andy Cohen that she and Wade have to "space [sex] out" around his basketball games. "Off-season, it's a nice time, it's a good time, it's a very active time," she told Cohen. Then she described their relationship as "yummy, mysterious, and honest."
If you think about it, it makes total sense that they have to schedule their nights together around games. Professional basketball players travel all the time, and games are both exhausting and tough. Pro players are encouraged to rest in between games, so they can't be wearing themselves out before taking to the court.
But that's not their only concern that typically goes down in the bedroom. Just this month, the actress opened up about her struggles to get pregnant. She told People last year, "I never wanted kids. Then I became a stepmom, and there was no place I'd rather be than with them." After marrying Wade in 2014, Union became the stepmom to his two sons from another marriage — 15-year-old Zaire and 10-year-old Zion — and his nephew Dahveon Morris, who is 16 years old.
She wrote in her book, We're Going To Need More Wine, which came out earlier this month, that it has been rough AF. According to Entertainment Tonight, the 44-year-old wrote:
I've have had eight or nine miscarriages. For three years, my body has been a prisoner of trying to get pregnant — I've either been about to go into an IVF cycle, in the middle of an IVF cycle, or coming out of an IVF cycle.
Fertility issues also don't make it easy to have spontaneous sex, but it sounds like Union and Wade have worked through the hard parts together. Being a celeb doesn't make it any easier, though she knows that every woman with fertility issues struggles. According to the outlet, she added:
For so many women, and not just women in the spotlight, people feel very entitled to know, "Do you want kids?" A lot of people, especially people that have fertility issues, just say "no" because that's a lot easier than being honest about whatever is actually going on. People mean so well, but they have no idea the harm or frustration it can cause.
The paparazzi don't help. She told People that gets so bloated that people just assume she's pregnant every now and again, adding to the pain and frustration of going through IVF.
"Once a month I look like I'm in my second trimester because I'm bloated," she told the magazine. "It leads to the questions and it leads to the rumors and anytime I go into a doctor's office I feel like I'm a member of SEAL Team Six undercover because I don't want people to speculate."
That's no way to live, but having a great partner helps. Scheduled sex aside, Union and Wade have been so close ever since they met. Wade told People in 2015 that he thought he had figured out the key to their happiness together.
"I think the one thing is, we are imperfect, just like every couple in the world. We stick together through it all — through the great times, through the bad times," he explained to People.
Given all they've been through together, including scheduling sex around the NBA calendar, it certainly seems to be working.