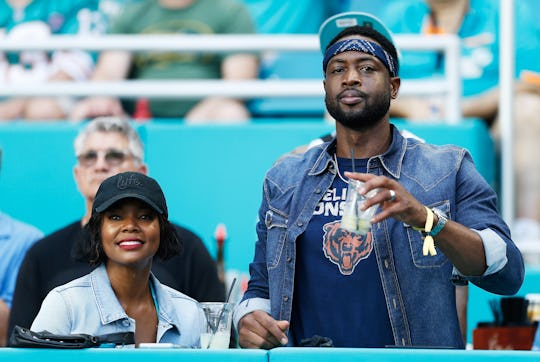 Marc Serota/Getty Images Sport/Getty Images
Gabrielle Union's Baby Met Oprah, So Now You're Jealous Of A Baby
Generally speaking, I try to avoid being jealous of babies. It's rather unseemly and people tend to think poorly of you if you envy babies. But I'm sorry to tell you, there might be one or two babies who still make me green with envy. Especially if they get to meet my heroes. Like when Gabrielle Union's baby met Oprah and probably barely even cared about it. I can't help but feel like I would have appreciated such a meeting on a much deeper level.
Union and her husband, Miami Heat basketball star Dwyane Wade, welcomed their first child together earlier on Nov. 7. Their daughter Kaavia James Union Wade was born via surrogate after Union struggled with fertility issues for years due to her endometriosis diagnosis, and the couple are clearly over the moon with excitement. As USA Today reported, Union wrote in her happy Instagram post to announce her little girl's arrival, "We are sleepless and delirious but so excited to share that our miracle baby arrived last night via surrogate and 11/7 will forever be etched in our hearts as the most loveliest of all the lovely days." She continued by writing "Welcome to the party, sweet girl" and shared a picture of the new family enjoying a little skin-to-skin action.
Since welcoming baby Kaavia, both mom and dad have been sharing joyful updates about their baby girl. But perhaps no update more joyful than this: baby's first meeting with the one and only Oprah Winfrey. Good luck topping that story if you happen to be in the same Mommy and Me group with this kid.
Union and Wade sat down with Oprah for an interview for O Magazine and as part of an upcoming special on the OWN Network called Oprah at Home with Gabrielle Union, Dwyane Wade & Their New Baby. It's a mouthful sure, but this special is being touted as "the first and only televised interview" and will air on Saturday, Dec. 8 at 8 p.m. EST. So not only did this lucky little baby girl get to have Oprah in her first official photo, she also got to hang out with her for a whole special and stuff.
Apparently baby Kaavia does have some idea of how exciting it is to have Oprah come over and hang out at her house. She posted a picture of the former talk show host and unofficial queen of America holding her on her Instagram page, I assume via her parents. Can I also point out she already has 176,000 followers?
I'm not jealous of any of this, I guess.
The sweet picture was captioned:
Me, my new friend @oprah and my pops @dwaynewade on me like I'm Honey Boo Boo. #StageDad My primetime special "@Oprah at Home with Gabrielle Union, Dwayne Wade & Their New Baby"
Kaavia is a lucky little girl, obviously. She was born into a family full of big brothers (Wade has three sons from a previous relationship and is also raising a teen nephew with Union), her parents clearly adore her. Oh, and all of that Oprah stuff.
Nothing to be jealous of here, guys.
Season 2 of Doula Diaries shares the stories of fearless doulas helping their clients take control of their births and make tough choices that feel right to them. Watch the first episode of the new season Monday, November 26th.