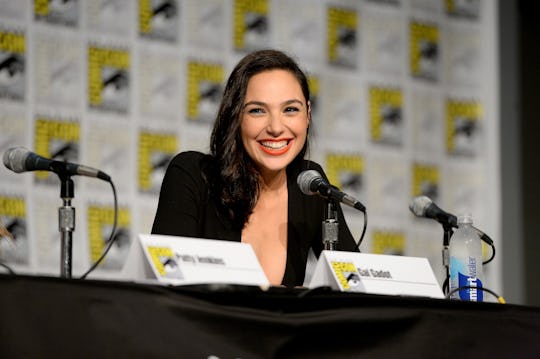 Charley Gallay/Getty Images Entertainment/Getty Images
Gal Gadot Welcomes Baby No. 2!
Wonder Woman is now a mother of two! On Monday afternoon, Gal Gadot announced she had given birth to another baby girl. The 31-year-old actress broke the exciting news on Instagram in a beautiful photo of her family standing in front of her new daughter's stroller at the hospital on their way home.
"And then we were four... She is here, Maya. I feel so complete blessed and thankful for all the Wonders in my life," Gadot captioned the black-and-white photo of herself standing next to her husband Yaron Versano, and their daughter Alma, whom they welcomed in 2011. She completed the heartwarming post with the the hashtags "#family," "#newborn," and "#greatfull."
Gadot — who was a fashion model and actress in Israel before she broke into the Hollywood film industry and joined the Justice League — announced in a another sweet Instagram post in November 2016 that she was expecting her second child. In the snap, the Woman Woman star and her husband, an Israeli real estate developer whom she married in 2008, positioned their hands into heart over her growing baby bump. "So excited to share this wonder with you..." Gadot captioned the selfie, which she coupled with an adorably proud "#mommyforthesecondtime" hashtag.
The new mom of two recently reflected on her pregnancy in a stunning "#nofiltermoment" on Instagram less than week before she gave birth to baby Maya.
"With the daily routine of life, family and work I'm distracted all day long," she captioned the photo of herself with her hand placed over her belly while wearing a black Wonder Woman tee. "Today I had a moment with myself when I was looking out the window at the beautiful clear blue sky and realized that I'm 9 months (!!!) pregnant and soon will have a new lovepup as an addition to our family."
"Could not be more grateful to the universe," she continued. "Sending you guys some positive gratitude energies."
She may be Wonder Woman, but parenthood still flipped her life around just like it has for almost every other mother out there. In an interview with Glamour last year, Gadot said her priorities totally changed after becoming a mom and she struggles with the fact that she is a working mom.
I started to choose my battles better. The Jewish guilt I feel about being a working mom is the hardest thing... I've gotten better. When Alma was around two, I was really anxious about how to travel with a child, moving her from one country to the other, all the different languages. It was my husband who told me: 'Gal, think about what kind of a role model you want to be. If you want to show Alma that she can follow her dreams, that's what you should do, and we will figure out the logistics.'
Little Maya's arrival comes just a few months before her mom hits the big screen in Wonder Woman, which is set to hit theaters this June. And who knows, with all of the excitement surrounding the 75-year-old comic book character's action film and the promoting that will need to be done, fans might get to see the new little girl pretty soon as she travels around the world with her mom. In the meantime though, congratulations to the happy family of four!