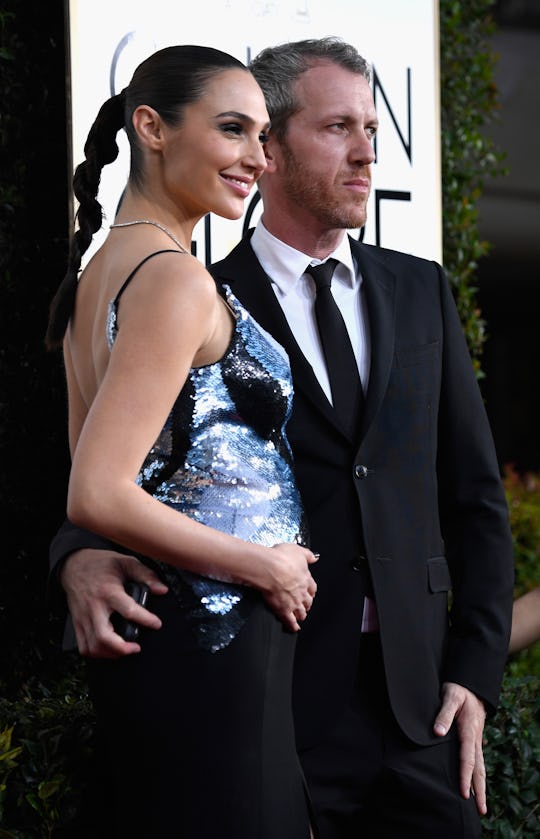 Frazer Harrison/Getty Images Entertainment/Getty Images
Gal Gadot's Best Instagrams With Her Husband
Your newest girl crush, Wonder Woman's Gal Gadot, has an adorable family. The 32-year-old mother of two young daughters shares bits of her life on social media, giving glimpses of what goes on behind the scenes. Gal Gadot's best Instagrams with her husband are especially sweet, and the love the two have for each other is reflected in every selfie and their respective, emoji-filled captions.
Gadot's husband, Yaron Versano, is an Israeli real estate developer working in their home base of Tel Aviv. The two met 10 years ago, he being 10 years her senior. On their second date, Gadot told Glamour, Versano told her that "he was serious and wasn't going to wait more than two years [to propose]." Two years later and Gadot and Versano were engaged.
Their daughters, Maya and Alma, are 2 months and 6 years old, respectively. Naturally, the girls make the Insta cut, albeit in subtle ways. In fact, one of Gadot's most tender posts with her husband is a mirror selfie of the pair posing with her (Maya-filled) baby bump. "3 in 2 in 1 photo. Strike a pose," Gadot captioned it.
When Gadot isn't posting celebratory Wonder Woman red carpet photos (be honest, you'd do the same), she's showing love to her number one fan. See the swoon-worthy and couple-y images below:
On Valentine's Day
On this Valentine's Day post, Gadot wrote: "Everyday with you is valentine's day. Love you to the stars and back."
On Spouses Day
Championing another love-focused (but lesser known) holiday, Gadot wished her husband a very happy spouse's day with a snap of this gentle forehead kiss.
On The Way To The Golden Globes
Versano kept it cool and Gadot puckered up on their way to the Golden Globes a while back in this glam throwback.
While Traveling
Repping all-black everything and matching grins, "the desert makes us HAPPY," Gadot exclaims.
In Black & White
OK, this one truly requires no explanation, and Gadot agrees. "Love," she simply titled it, equipped with a single, red heart emoji.
Celebrating Gadot's Superhero Status
Versano's got an Instagram of his own, and he proudly posted a photo of his wife and some larger-than-life Times Square billboards of her film. The hashtags? "#Wonderwoman," "#mywife," and, of course, "#blessed."
While Getting Nostalgic
What's more romantic than a nose-chin kiss? Well, Versano's caption on this photo, for one: "10 years have gone by, yet it feels like yesterday we first met," he writes. "My heart will forever beat to the sound of our love."
Sorry if those made you melt a little. Ten years have passed, and these kids are still crazy about one another! Here's to ten more years of tenderness, continuous support from both sides, and, well, more selfies on Instagram to show for it.