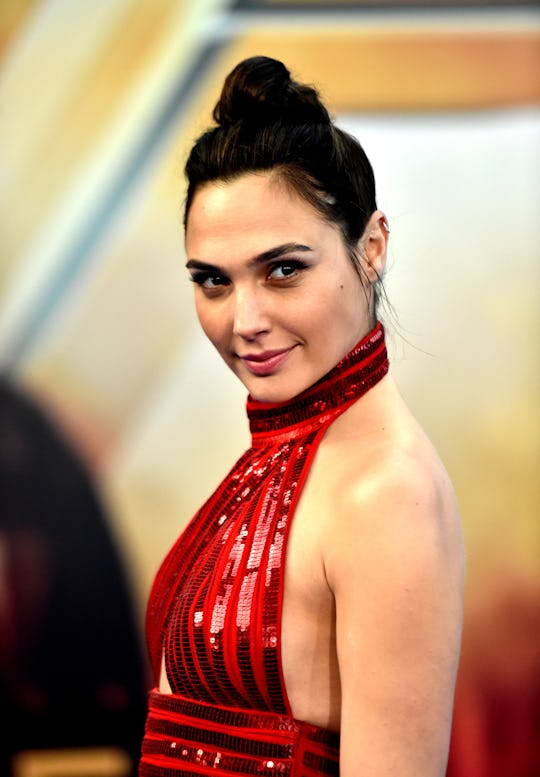 Frazer Harrison/Getty Images Entertainment/Getty Images
Gal Gadot's Inspiring Quotes About Her Kids
Imagine if your mom was the actual Wonder Woman. I mean, the whole lasso of truth thing wouldn't be the greatest. But otherwise... pretty amazing. Gal Gadot's two daughters might still be too little to really understand and embrace the implications of having a superhero as a mother, but they'll understand it some day. For now, the Israeli-born actress is just mom to them. And these Gal Gadot quotes about her kids are proof positive that's exactly the way she wants it.
Gadot has two daughters with her husband, Israeli businessman Yaron Varsan: 6-year-old Alma and 2-month-old baby Maya. The former Miss Israel (not to mention actress, model, soldier, and law student) tends to keep a low profile with her daughters. But she's still a mom, and moms will brag about their kids lickety-split if you give them them the slightest chance.
After giving birth to daughter Maya just two months ago, for example, Gadot indulged in a little well-earned enthusiasm about becoming a mother again. Sure, she is part of the Justice League. Sure, she is basically every girl-child and woman-child's hero all across the land. But what really gets this Wonder Woman excited is bringing another human being into this world.
Her Blessings
Gadot shared this sweet black and white shot of her daughter Alma pushing baby sister Maya in her stroller after she was born. She captioned the photo:
And then we were four... She is here, Maya. I feel so complete blessed and thankful for all the Wonders in my life
On Feeling Like Wonder Woman
Gadot spoke to news.com.au about the strength and dedication she felt after giving birth, saying:
It's cheesy, but I feel like Wonder Woman when I give birth. When you deliver, you feel like you're a god. Like "Oh my God, I made this."
Bringing Up Alma
Gadot shoulders the weight of inspiration for all of womankind these days, it seems. But she told Glamour that there was one person she has always wanted to inspire more than anyone else — her daughter Alma:
When Alma was around two, I was really anxious about how to travel with a child, moving her from one country to the other, all the different languages. It was my husband who told me: "Gal, think about what kind of a role model you want to be. If you want to show Alma that she can follow her dreams, that's what you should do, and we will figure out the logistics."
Also her husband? Love.
Badass Feminist & Also Mom
Gadot understands that raising daughters in the modern world calls for a little extra. And she's not afraid to teach her daughters to be Wonder Women themselves some day. She told Glamour in that same interview that she was "laying the groundwork" of feminism with her daughters:
There are such misconceptions as to what a feminist is. Feminism is about equality. I want all people to have the same opportunities and to get the same salaries for the same jobs. I realize I'm doing what I want to do because of the women before me who laid the groundwork. Without them I wouldn't be an educated working mother who is following her dreams; I wouldn't be here.
Gadot's daughters might not yet understand that their mom is Wonder Woman... but they probably already know she is a wonder woman.