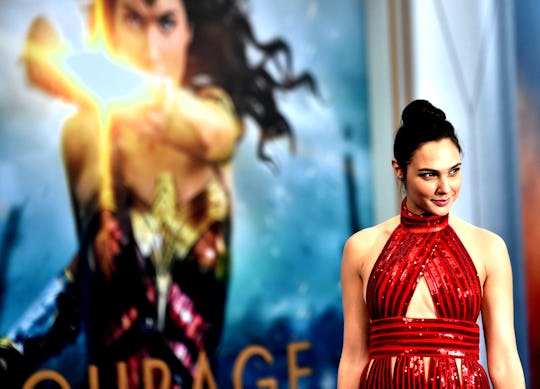 Frazer Harrison/Getty Images Entertainment/Getty Images
Gal Gadot's Thoughts On Motherhood Are Inspiring
Gal Gadot, the Israeli actress portraying DC Comics' Wonder Woman on the big screen, has a long and fascinating back story. She has filled many roles in her 32 years, on and off screen, of course, but it'sGal Gadot's quotes on motherhood that prove raising her two daughters has been one of her greatest roles of all. In fact, Gadot ultimately contributes her inspiration for Wonder Woman to the wonders of motherhood and the pain of childbirth.
The actress has led a varied and interesting life. Prior to making her silver screen debut in the Fast and the Furious franchise, the actress and model was a beauty pageant contestant, a soldier, and a law student. Gadot won the Miss Israel beauty pageant in 2004 and went on to compete in Miss Universe. As an Israeli-citizen, Gadot served in the army for two years, satisfying Israel's military conscription following her beauty pageant competitions. She then attended law school before making the decision to pursue her acting career. Despite her lengthy list of achievements, Gadot points to childbirth and parenting as her greatest accomplishments.
Gadot and her husband, Yaron Varsono, have been married for nearly a decade and have two children together. Their youngest, a daughter named Alma, was born in 2011, and their second child, Maya, followed in March of this year.
It is the pain of childbirth that served as Gadot's inspiration for the power behind Wonder Woman. Her quotes on motherhood are a testament to this great love and an inspiration for us all.
On Inspiring Her Daughter
In an interview with Glamour, Gadot shared some advice given to her by her husband:
When Alma was around two, I was really anxious about how to travel with a child, moving her from one country to the other, all the different languages. It was my husband who told me: "Gal, think about what kind of a role model you want to be. If you want to show Alma that she can follow her dreams, that's what you should do, and we will figure out the logistics."
On Giving Birth
Gadot is as awe-struck as the rest of us when it comes to the wonder of the creation of new life. In an interview with news.com.au, she said,
It's cheesy, but I feel like Wonder Woman when I give birth. When you deliver, you feel like you're a god. Like "Oh my God, I made this."
On Being Pregnant
Gadot filmed Batman v. Superman while pregnant, but that didn't stop her from taking time to appreciate the beauty of her second pregnancy. In the caption of a March Instagram post, she wrote,
With the daily routine of life, family and work I'm distracted all day long . Today I had a moment with myself when I was looking out the window at the beautiful clear blue sky and realized that I'm 9 months (!!!) pregnant and soon will have a new lovepup as an addition to our family.. could not be more grateful to the universe.
On Being a Feminist Mom
Part of the beauty of feminism is that is comes in many different forms. In the aforementioned Glamour interview, Gadot commented on what feminism means to her, saying:
There are such misconceptions as to what a feminist is. Feminism is about equality. I want all people to have the same opportunities and to get the same salaries for the same jobs. I realize I'm doing what I want to do because of the women before me who laid the groundwork. Without them I wouldn't be an educated working mother who is following her dreams; I wouldn't be here.
Gal Gadot is just as wonderful as the hero she portrays. Here's hoping she shares more of her motherhood wisdom with the rest of us mere mortals!