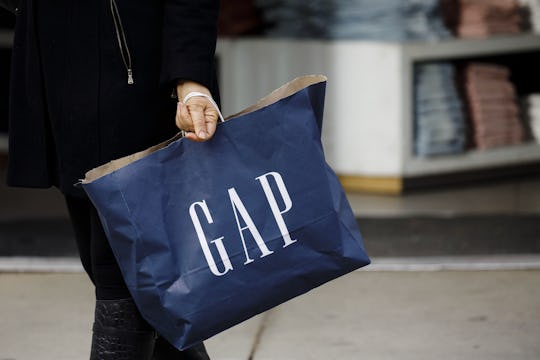 Bloomberg/Bloomberg/Getty Images
Everything's On Sale At Gap For Black Friday & Things Are Gonna Go *Fast*
Gap's holiday sales can generally be counted on for serious savings, and this year is no exception. Gap's Black Friday sales include doorbusters, huge discounts, and discounts on top of discounts (yes, really).
Between the Black Friday and Cyber Monday sales, various deals are being offered every day between Nov. 27 and Dec. 4. From Wednesday, Nov. 27 through Monday, Dec. 2, Gap will be offering 50 percent off all items (except doorbusters) to in-store shoppers. Additionally, on Black Friday (Nov. 29), select stores will have extended morning hours and will be offering 60 percent off everything (excluding doorbusters) from 6 a.m. to 8 a.m. (hours vary so check the store locator to confirm your Gap's hours).
From Friday Nov. 29 through Saturday, Nov. 30, Gap will also be offering doorbuster deals, both in-store and online, which include select adult and kids sleepwear ($15 for adults, $10 for kids), select sweaters starting at $20 for adults and $15 for kids, select long sleeve tees starting at $12 for adults and $8 for kids, and cozy socks starting at $3 for adults and $2 for kids.
If you're more of an online shopper, don't worry, there are plenty of savings for you in addition to the doorbusters. From Wednesday, Nov. 27 through Saturday, Nov. 30, shoppers will get 50 percent off plus an additional 10 percent off every item (excluding doorbusters) when they enter the promo code: BLKFRIDAY.
For Cyber Monday, which will run from Sunday, Dec. 1 through Wednesday, Dec. 4, Gap.com will be offering the same 50 percent off, with the additional 10 percent off deal on everything plus free shipping on all orders when you enter the promo code: CYBER.
'Tis the season for savings, as they say.