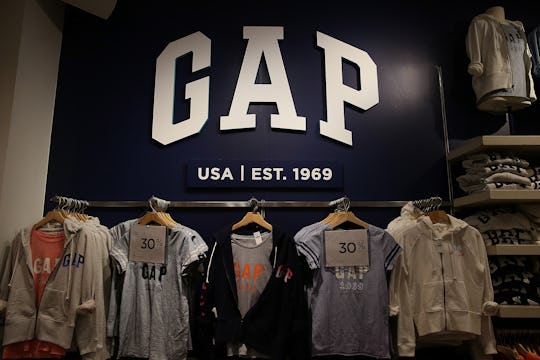 Justin Sullivan/Getty Images News/Getty Images
Literally *Everything* Is At Least 50% Off At Gap On Cyber Monday
Holiday shoppers come in a number of varieties. There are the Thanksgiving Eve Turkey Trotters, who don't mind running out after their huge dinner to catch the malls when they open in the early evening. There are the Black Friday Bravehearts, who set their alarm crazy-early and make it home by noon. Then there are the folks who kick back until after the weekend, then spend their morning snagging all the online deals. For these shoppers, Gap's Cyber Monday deals are one of the things that make the wait worthwhile.
Secretly, we all know that all is not lost, bargain-wise, if we can't bring ourselves to face the crowds and the parking wars in the 48 hours following the Big Feast. Truth to tell, you can find decent deals all during December if you stay alert. But there's something satisfying about being able to check off all or most of your holiday shopping list early on. It means you can spend the next four weekends enjoying everything the season has to offer — store window displays, concerts, museum exhibits, skating rinks, Hallmark Channel movies, Starbucks' Caramel Brulee Lattes — anything but standing in line while sweating in your heavy coat, or frantically surfing online for items that aren't marked "No Longer Available."
But if you've got the time to park in front of the laptop or phone for a little bit on Cyber Monday (or even before), you'll be rewarded with a lot of check-offs on your gift list, and a not-too-depleted wallet. Because Gap is offering a ridiculously fantastic shopping deal: From now (yes, now!) until November 26, both Gap stores and Gap.com are offering 50 percent off their whole stock. "No Exclusions," is how they're putting it. So if you're reading this anytime before the end of Monday, you can scoop up the bargains without having to miss a moment of your family celebrations.
Not enough for you? Check this: Gap is also offering an additional 10 percent off all purchases bought online, on top of that half-off deal. Just use the code TREAT at checkout.
These are just a few of the craveable clothes you can score online for the holidays. Gap style and quality at a fraction of the cost, without having to interact with a single hostile shopper: how can you lose?