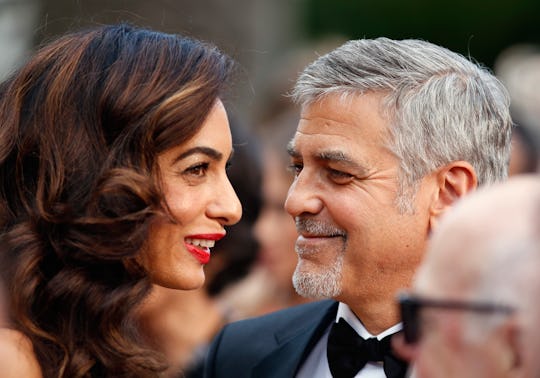 Tristan Fewings/Getty Images Entertainment/Getty Images
George & Amal Clooney Are Expecting Twins
I am not a big believer in signs, honestly. But there's something sort of magical going on right now, and it's time we just embrace it. On Thursday, CBS' The Talk confirmed that George and Amal Clooney are expecting twins, and that delicious tidbit has to mean something, right?
The news is especially exciting, considering all the celebrity twin surprises of late. First there was Beyoncé and Jay Z dropping the exciting news that they were expecting twins last week. Next Madonna adopted twin 4-year-old girls from Malawi. And now the Clooneys. My heart can't take all of this happiness and joy. Except, yes it can, so keep it coming.
Julie Chen of The Talk confirmed that 55-year-old director and actor Clooney is, indeed, expecting twins with his wife, the massively impressive international human rights lawyer, 39-year-old Amal Clooney. According to Chen, the twins are reportedly due in June. Both Clooneys will be first time parents, if you don't count the adorable dogs they have rescued and adopted. (Sorry, I just don't. No offense to Millie and Louie, you're both still adorable.)
There has been speculation over the last few weeks that Amal Clooney could be pregnant, but the rumors were never confirmed by either of the Clooneys — until now. Romper has reached out to the couple's reps for comment on the pregnancy news and is awaiting a response.
Fans have been waiting impatiently for news that the gorgeous couple were about to become parents ever since they got married in September 2014 in Venice, Italy. Particularly considering Clooney's decades of confirmed bachelorhood. Even after he married the ever-amazing Amal, Clooney made it clear that fatherhood "wasn't high" on his priority list, as recently as May 2015. It looks like he's since changed his tune.
Now that the news has been confirmed... well, the internet is officially going bananas.
The Clooneys have a history of being tight-lipped about their relationship, shying away from the public as they both travel the world for their careers. But that doesn't mean Clooney doesn't let his guard down every once in a while to share his admiration for his accomplished wife. In 2015 he spoke to People about his marriage:
All I know is that it sort of changed everything in terms of what I thought my future – my future personal future – was going to be. I've always been an optimist about the world. I wasn't always completely optimistic about how it was going to work out personally for me. But now I am.
A source close to the couple told People that Amal, who is reportedly around five months pregnant has been letting "everyone in both families know quietly" the happy news, and all family members are obviously "very happy."
As are we, guys. I don't understand the significance of all the twins at this point, but let's just roll with it, shall we?