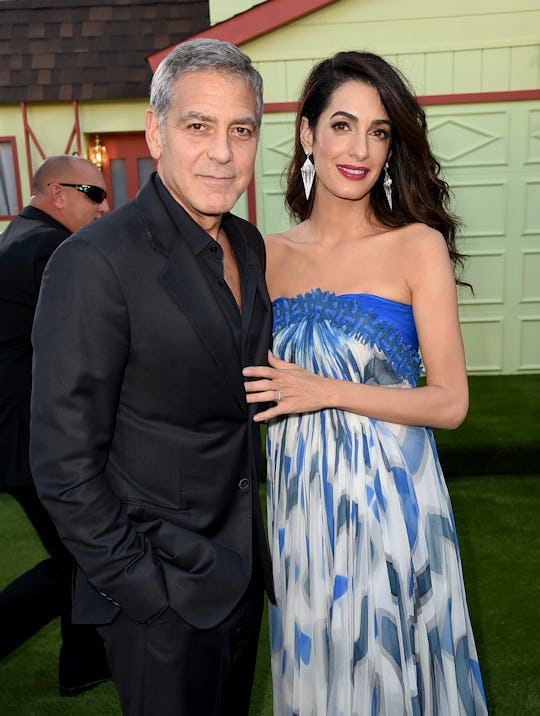 Kevin Winter/Getty Images Entertainment/Getty Images
George & Amal Clooney Support March For Our Lives With A Sizable Donation In Their Twins' Names
It has not even been a full week since a lone gunman walked into Marjory Stoneman Douglas School and opened fire on students and faculty there, killing 17 people before being taken into custody. And yet so much has happened in the days since. Some of the survivors of the shooting have thrown down the gauntlet against guns by organizing a march on Washington, D.C. next month. It's a daunting task for such young activists, but it seems they have some powerful support behind them. In fact, according to People, George and Amal Clooney made a sizable donation to March For Lives demonstration in their twins' names, because, as George Clooney said, "our children's lives depend on it."
David Hogg, Alex Wind, Cameron Kasky, Jacqueline Coren, and Emma Gonzalez are all students at Marjory Stoneman Douglas High School in Parkland, Florida. They were all at the school last Wednesday when a gunman entered the school, pulled the fire alarm to get more students out of their classrooms, and started shooting. They survived where 17 other students and faculty members did not. And these students are planning to use their voices to effect real change, as Emma Gonzalez noted in her powerful speech during an anti-gun rally in Tallahassee on Saturday: "We are going to be the kids you read about in textbooks. Not because we're going to be another statistic about mass shooting in America, but because, just as David said, we are going to be the last mass shooting."
To that end, these five students have organized the March For Our Lives rally on March 24 to call for stricter gun laws. As 11th grade student Cameron Kasky told CBS' Face The Nation:
What we're trying to do here with 'March For Our Lives' is say, the adult politicians have been playing around while my generation has been losing our lives. At the end of the day, this isn't a red and blue thing. This isn't Democrats or Republicans. We need to make real change here and that's exactly what we're going to do.
George and Amal Clooney, who is a human rights lawyer based in London, have nothing but praise for the courage of these students, and decided to support them both financially and physically, as the Gravity actor noted in a statement released to People:
Amal and I are so inspired by the courage and eloquence of these young men and women from Stoneman Douglas High School. Our family will be there on March 24 to stand side by side with this incredible generation of young people from all over the country, and in the name of our children Ella and Alexander, we're donating $500,000 to help pay for this groundbreaking event.
That sort of heavyweight support from a big name celebrity can only help the kids behind this anti-gun movement, who will be taking on some of the most powerful people in the country when they march next month. The President of the United States, for one, who Gonzalez called out in her speech on Saturday, but also any politician who they believe might block stricter gun control measures. Not to mention taking on the actual National Rifle Association itself; in her speech in Tallahassee on Saturday, Gonzalez referred to the powerful organization as "murderers."
It seems these teens, and others across the country, will not be silenced. They are taking matters into their own hands in the best way possible; peaceful activism, like the recent "lie-in" outside the White House, where more than a hundred supporters laid down for three minutes to signify how long it took the lone gunman in last Wednesday's school shooting to kill 17 people. It was powerful, and well-planned; and above all, peaceful.
Amal and George Clooney have hopefully started a trend to stand behind the next generation as they try to push for important change. To offer them financial assistance, public encouragement from people with weight behind their famous names. Because this school shooting needs to be the last of its kind. And I suspect these empowered students will be the people to make that change happen, especially with icons like the Clooneys behind them.