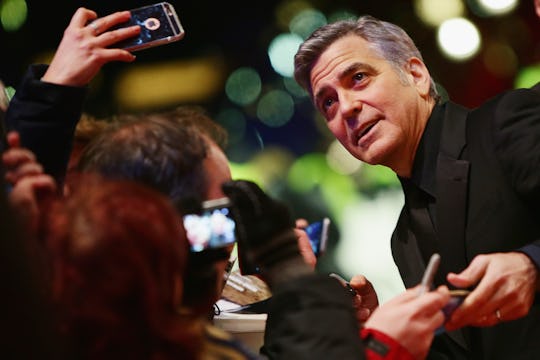 Vittorio Zunino Celotto/Getty Images Entertainment/Getty Images
George Clooney Praises Bernie Sanders While Fundraising For Clinton, Confuses Everyone
On Friday night in San Francisco, George and Amal Clooney hosted a fundraiser for Democratic presidential candidate Hillary Clinton that required attendees to shell out major cash to get in the door. Some may even say it was an "obscene" amount of money. And, perplexingly, it seems that Clooney himself would be the first to agree. The Oscar-winning actor told NBC's Chuck Todd during a subsequent Meet the Press interview that Bernie Sanders supporters who protested the event were "absolutely right." Clooney then went so far as to praise Sanders for his views on money in politics. Now, everyone is confused.
"The Sanders campaign, when they talk about it, is absolutely right," Clooney told reporters this weekend, according to The Guardian. "It's ridiculous that we should have this kind of money in politics. I agree, completely." Interesting.
Admission to the events Clooney hosted over the weekend — there was another in Los Angeles Saturday — cost between $33,400 and $353,400. Regardless, Sanders praised his rival's supporter for his "honesty and integrity on this issue" during a Sunday morning appearance on CNN's State of the Union, even though he has consistently denounced big-money contributors to political campaigns as a major tenet of his platform.
"There is something wrong when a few people, in this case wealthy individuals, are able to contribute unbelievably large sums of money," Sanders told CNN. "That is not what democracy is about. That is a movement toward oligarchy."
Clooney did point out that most of the money he's raised through the fundraiser will not be directly going to Clinton's campaign fund, but would be contribute to Clinton's primary campaign, the Democratic National Committee, and various state Democratic parties, CBS News reported.
Still, Sanders has called fundraisers like the one in San Francisco Friday night "political bribery," so the newfound camaraderie between the Democratic hopeful and Clooney is intriguing.
The disparity between a Clinton fundraiser and a Sanders one is striking. While guests and co-hosts to Clooney's Los Angeles Clinton shindig included Ellen DeGeneres, Jane Fonda, and Steven Spielberg, Sanders supporters who weren't protesting enjoyed a $27-per-person fundraiser at a San Francisco home Friday, Variety reported.
Clooney said he still hopes Clinton wins the nomination at the Democratic National Convention during the week of July 25, but promised to fundraise for Sanders if he does end up as the Democratic presidential nominee. So maybe it's not so confusing after all. Because although both Democratic presidential candidates have become more vocal in criticizing each other, it seems that the candidates — and their supporters — share some mutual respect and are more or less united against Republicans Ted Cruz and Donald Trump.