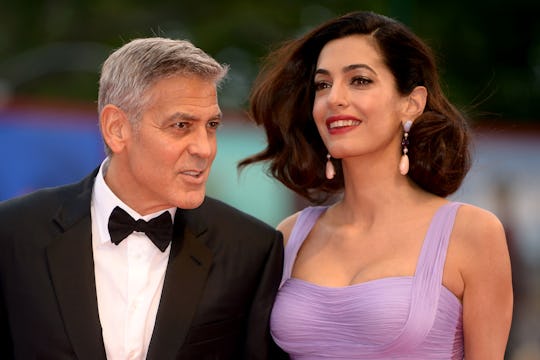 FILIPPO MONTEFORTE/AFP/Getty Images
These George Clooney Quotes About Amal As A Mom Will Hit You Right In The Heart
Ever since Amal Clooney and George Clooney welcomed twins in June 2017, details have surfaced about George's admiration for Amal as a new mom. Although it should come as no surprise that Amal is an excellent mother (Amal is an awesome person in general, by the way), these four George Clooney quotes about Amal as a mom is proof that she has motherhood on lock.
When Amal and George's pregnancy was confirmed in February, fans were abuzz about how Amal would be as a mom. Prior to the announcement, Amal was best known for her impressive career as an international human rights lawyer, a career she officially returned to on Sept. 21. Given Amal's busy and demanding job, fans were curious if she'd put her career on hold on indefinitely, or if she'd be able to juggle the responsibilities of raising newborn twins with her work. Of course, parents are more than capable of working while raising a family — and parents should follow whatever path is best for themselves and their families.
The good news is Amal's return to work was widely celebrated (who wouldn't support a woman investigating the crimes of ISIS?), and fans expressed no doubts or concerns that she would be able to simultaneously pull off motherhood and her incredible career (because we wouldn't have those doubts for a man, would we...). The best part? George had her back from start to finish.
Even before Amal gave birth, George had nothing but gushing things to say about the mom-to-be. Apparently, Amal handled her pregnancy quite well — so much so, in fact, that George was left in complete awe of her. In March 2017, George said of Amal's pregnancy, according to Us Weekly:
She is doing really great. She is amazing. I don't have anything to do. There is nothing I can do to help, but make tea and stuff.
In another interview from March 2017, George made it clear who would call the parenting shots once the twins arrived. Spoiler alert: it wasn't George. George joked, according to People:
My wife says I can't name them Casa and Amigos. That's the one thing I'm not allowed to do.
Yep, it's official — Amal was an incredible mom even before the twins made their debut. It's a good thing Amal is around to veto some of George's ideas about the twins ... i'm not sure how Alexander and Ella would have felt about being named after their dad's tequila line.
Once the twins were born, Clooney continued his praise for Amal's mom skills. In an interview from August 2017, George said, according to Vogue:
Suddenly, you're responsible for other people, which is terrifying. She's like an Olympic athlete. She's doing so beautifully.
On a more serious note, George also revealed in February 2017 that Amal would be scaling back her work trips to areas where she wasn't "welcome." The detail demonstrates how Amal is working hard to balance her work life with motherhood — similarly to many parents, Amal has had to make important and thoughtful sacrifices for her family.
George explained, according to Refinery29:
We decided to be much more responsible, to avoid the danger. I won't go to South Sudan anymore or the Congo; Amal will no longer go to Iraq, and she'll avoid places where she knows she isn't welcome.
Although George and Amal tend to keep the details about their lives private (which is totally acceptable and fine), it's obvious they do want to share public admiration for one another from time to time. As the twins get older, it will be nice to hear George's anecdotes about Amal as a parent — if the past is any indication of the present, the anecdotes should be glowing.
Watch Romper's new video series, Romper's Doula Diaries:
Check out the entire Romper's Doula Diaries series and other videos on Facebook and the Bustle app across Apple TV, Roku, and Amazon Fire TV.