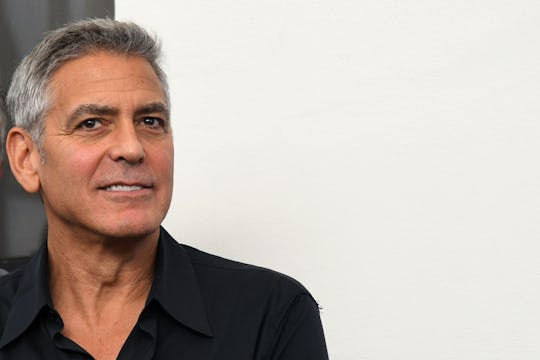 TIZIANA FABI/AFP/Getty Images
Even George Clooney Can't Escape The Fear Of Fatherhood
With the excitement of a new baby comes a certain amount of anxiety as well. This seems to be a condition common with both celebrities and everyday parents. Really, even George Clooney thinks fatherhood is scary and his comments on his new twins — Ella and Alexander — show how the pressure to be perfect for your kids is a universal feeling.
Clooney and his wife Amal welcomed the pair of twins earlier this summer. The first-time dad opened up about life with babies in an interview with The Hollywood Reporter. For the cover story of the latest issue, Clooney opened up about how his experiences raising the two youngest members have been thus far and all the pressures that tagged along:
The first thing you think is, "I hope I don't screw this up." ... You are really responsible for two kids.
The couple has reportedly welcomed friends and family members into their home since the babies arrived. And he has been served a taste of his own medicine as far as mocking the dirtier aspects of raising children. He explained in the interview:
My house is filled with the warm sounds of babies crying. You should see when my friends show up and see me change a diaper, the laughter that comes from them. I go, "I know, I know." I've given them so much sh*t for so many years, I deserve every bit of it.
Even months after the twins were born, Clooney is still adjusting to his new role. He and Amal were married in September of 2014, but were apart for some time due to work. He told The Hollywood Reporter that it wasn't until they spent some more time together as a couple that they really started thinking about children:
It had never been part of my DNA. Amal and I were talking and we just felt we'd gotten very lucky, both of us, and we should share whatever good luck we've got.
Shortly after they decided to try to build a family together, Amal found out that she was pregnant with twins in an ultrasound. "We just sat there, staring at that piece of paper they give you," he told The Hollywood Reporter, adding that he's "a very good diaper guy," which he didn't expect to be.
This isn't the first time that Clooney has spoken out about the fear of fatherhood. He told the Associated Press in August that Amal is the real MVP when it comes to caring for the twins:
Suddenly, you're responsible for other people, which is terrifying. She's like an Olympic athlete. She's doing so beautifully.
The first year of parenting can be a bit overwhelming for anyone, celebrities included. Along with the awe and wonder of creating new life comes lots of stress. New parents have to contend with sleep deprivation, the introduction of new, rigorous schedules of eating and sleeping, and potential work and marital struggles during this period of adjustment.
If anything, it is reassuring to know that even the likes of Clooney have to overcome that first year hurdle of fears and challenges — because, really, babies don't care if you've won several Academy Awards.
Check out Romper's new video series, Romper's Doula Diaries: