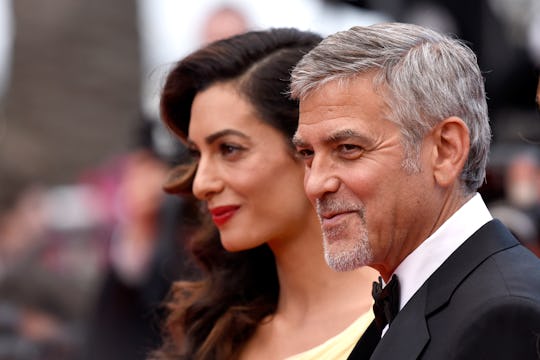 Clemens Bilan/Getty Images Entertainment/Getty Images
George & Amal Clooney's Love Story Is Honestly Too Much
When George Clooney and his wife Amal welcomed their twins earlier this month, their official announcement of the happy news ended in a joke: "George is sedated and should recover in a few days," it read. That's because the actor is a longtime bachelor who had sworn he'd never get married again — and now he's a first-time dad at 56. But as unlikely as his new situation may seem, it very clearly couldn't be more right. Case in point: In a recent interview, George Clooney's dad revealed how his son met Amal — and the story is just as elegant, regal, and romantic as you'd guess.
As the Clooneys enjoy the two new additions to their family, son Alexander and daughter Ella, Clooney's own dad seems to be feeling a bit nostalgic himself. And that's a treat for fans of the couple, because Nick Clooney's eyewitness account of the first time the A-list actor met the human rights lawyer is one for the books — or the celebrity magazines, at least. It all unfolded at a 2013 dinner party with mutual friends, he told People magazine. Nick and his wife Nina answered the door when Amal arrived, and were immediately charmed and impressed, as Nick tells it:
She introduced herself to us and we talked. She was obviously very charming, gorgeous and so clearly accomplished, but by the time we had supper that night, it was clear there was a kindness to her and an inclusiveness.
And if his parents were taken with Amal, whose last name at the time was Alamuddin, their son was even more so. At least, that's the impression Nick got as he watched the two get to know each other over dinner: "By the end of supper, I started looking over at Nina and saying, 'Look ouuuut, this could be trouble for this young man!'" he said of that evening, according to People.
For the record, that "young man" was 52 years old. But Nick said that he's been watching all of his son's romantic relationships since the time he actually was a very young man of 13 years old, he shared, and this time was simply "different."
"I really think by the time that first [meeting] was over, his and her fates were sealed, both of them," he said, according to People. "She was so remarkable and he was so remarkable around her."
Fast forward to not to long after that, September 2014, and the two were married in a gorgeous ceremony in Venice. But Nick Clooney's account of this happy origin story of a beautiful couple isn't the first time the family has shared some details about their meeting. In a recent appearance on the Late Show with David Letterman, Clooney himself said that he was actually hosting the dinner party at which he first encountered his future wife at his home in Lake Como, Italy. "She was a friend of a friend who came to visit and then I chased her for many months, calling and writing, those kinds of things," he said at the time.
Clooney was married once before, to actress Talia Balsam between 1989 and 1993. Since their divorce, he's repeatedly insinuated pretty convincingly that he didn't plan to tie the knot with anyone again.
But then Amal happened. And Clooney simply showed that he couldn't deny true love.