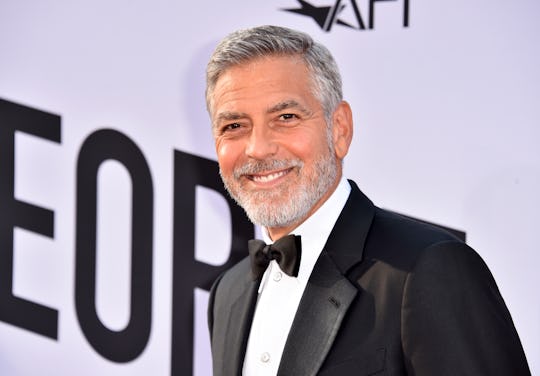 Alberto E. Rodriguez/Getty Images Entertainment/Getty Images
George Clooney's Dad Joke About His Diaper-Themed 'Halloween Costume' Is A+
When you become a parent, the scariest parts of Halloweekend are no longer haunted houses and midnight gory movie showings. For most parents of babies, Halloween's spookiest horror becomes changing diapers — George and Amal Clooney included. And George Clooney's joke about his diaper-changing Halloween costume this past weekend proves he has officially joined the Dad Joke Club.
On Sunday, Clooney attended the second night of Casamigos' two-night Halloween party at the Aria Resort & Casino in Las Vegas, as Entertainment Tonight reported. For the fiesta, Clooney dressed as a pilot along with business partner Rande Gerber, whose wife, legendary model Cindy Crawford, went as a flight attendant. Clooney and Gerber founded tequila company Casamigos together, and they sold the company in 2017, according to People. Gerber and Crawford made the first night of the party on Saturday as well, but Clooney opted to stay in with his twins.
"Last night, [Rande Gerber and Cindy Crawford] were dressed up as rock stars, and I was dressed up as a guy cleaning crap out of a baby's diaper," Clooney told Entertainment Tonight Sunday night. "It was a fantastic costume. Oh, so much fun, you could imagine the fun I had last night."
No photos surfaced of Amal at the festivities, so there's a good chance the whole "cleaning crap out of a baby's diaper" thing was actually a couple's costume for the two of them. That said, it sure looks like Clooney managed to have a blast as Gerber and Crawford's third wheel. The three even put together a hilarious one-minute film on a private Casamigos-branded jet, and Gerber shared the clip to Instagram. The two men got to hop in the plane's cockpit, and Clooney put on an A+ pilot's voice to warn the (non-existent) passengers that he'd never flown before. Whoops!
The Clooneys welcomed their twins, Alexander and Ella, in June 2017. The tykes were the first children for both mom and dad, and it was clear right off the bat that Clooney was hoping for a spot in dad jokes anonymous (preferably seated next to President Barack Obama).
When announcing the birth of their child last summer, the couple issued the following statement to USA Today:
This morning Amal and George welcomed Ella and Alexander Clooney into their lives. Ella, Alexander and Amal are all healthy, happy and doing fine. George is sedated and should recover in a few days.
This weekend was not the first time Clooney has opened up about his diaper-changing duties. In a September 2017 interview with The Hollywood Reporter, Clooney shared his number one parenting skill thus far. "I'm a very good diaper guy, which I didn't know I would be," he told the outlet. "You should see when my friends show up and see me change a diaper, the laughter that comes from them. I go, 'I know, I know.' I've given them so much s—t for so many years, I deserve every bit of it."
Here's hoping Clooney's Halloween 2019 costume will be a trick-or-treating dad!