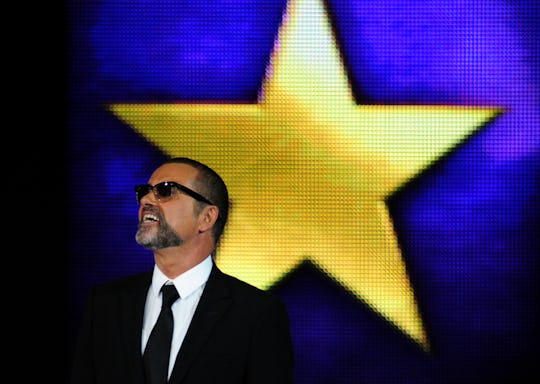 LEON NEAL/AFP/Getty Images
George Michael's Cause Of Death Is Devastating
George Michael will be immortalized as a iconic 1980s pop icon, a mesmerizing stage presence who celebrated being a gay man, and an irreplaceable artist who delivered hits like the teenybopper anthem "Wake Me Up Before You Go-Go" as the frontrunner of the pop duo Wham! and the controversial "I Want Your Sex" as a successful solo act. And since his death over the Christmas holiday, longtime fans will also remember his history of personal troubles that included alcohol and drug addiction. But his publicist confirmed that the singer who craved privacy had not been sick at the time of his death, making the fact that George's Michael's cause of death was heart failure even more of a tragedy for those who loved him.
News that the 53-year-old idol had died "peacefully" in his home in Oxfordshire, England, broke Sunday when his family released a statement confirming as much. Not much more information about the circumstances of Michael's passing have been released, and there's no reason to speculate — especially as his life represents a mosaic of artistic and humanitarian accomplishments that cement his legacy as a vital presence in the popular culture. Having recorded with "all-time greats" such as Elton John, Aretha Franklin, and Ray Charles, as the Associated Press reported, Michael was also a tireless advocate and unapologetic beacon for all LGBT people.
Michael nearly died of pneumonia back in 2011, an ordeal he later described as "by far the worst month of my life" and forced him to have to learn to walk again because of the time he spent sedated as his muscles atrophied, as he told The Daily Mail. "And I just woke up like this feeble old man," he said afterwards.
But throughout his illustrious career, Michael exuded a self-assured aura and seemingly unflappable energy. He remained a revered figure in the entertainment industry even in the midst of personal strife such as heavy use of marijuana and prescription sedatives that often left him slumped over behind the steering wheel for police to find, according to The Associated Press, and the death from AIDS of his partner, Anselmo Feleppa, and his mother within a few years of each other. "I struggled with huge depression after my mother died," he said of the experience, according to Entertainment Weekly. "Losing your mother and your lover in the space of three years is a tough one."
But even more than his struggles with substance abuse or his support of the HIV charity the Terrence Higgins Trust, Michael will be remembered as an innovator and a Grammy winner, an artist, who, according to USA Today, was even more autonomous in process of writing and producing his albums than Michael Jackson was.
George's Michael's death was a huge loss for the entertainment industry, and the last news his fans and those who admired and knew him wanted to hear on Christmas. 2016 has claimed yet another of the immeasurable talents that have gifted us with their music and creations. To have lost him when he was relatively young, and undoubtedly with so much more to contribute, is yet another indication that it's time for a new year.