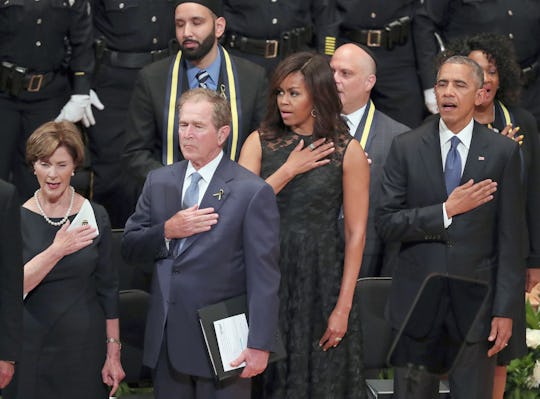 Tom Pennington/Getty Images News/Getty Images
George W. Bush Handing Michelle Obama Candy At John McCain's Funeral Is Pure Friendship
Republican Sen. John McCain from Arizona died on Aug. 25, and on Saturday his fellow politicians showed up en masse to eulogize him along with his family and friends. It was a unique day in the life of Washington politicians, a day when Democrats and Republicans came together to celebrate a man who was friend to people on both sides of the aisle. One friendship stood out to people as perhaps the best example of bipartisan unity, yet again. When George W. Bush handed Michelle Obama a candy at McCain's funeral, it was a pretty adorable moment that felt significant on Saturday. Because it seemed like the sort of thing John McCain himself might have appreciated.
Former President Bush and former First Lady Michelle Obama were seated beside each other, as they almost always seem to be, at McCain's funeral at the National Cathedral on Saturday. They were flanked by former President Obama and former First Lady Laura Bush. Both Obama and Bush had been invited to offer a eulogy at McCain's funeral by the man himself, before he lost his battle with glioblastoma (a type of brain cancer) last Saturday. Seeing two presidents who represented very different political ideologies sitting together, waiting to eulogize another presidential candidate they both defeated, felt like a weighty, historic moment. A moment when people from disparate backgrounds and belief systems can come together and put out a hand in friendship and understanding.
Or even just for a little hard candy.
I don't mean to get all emotional about this, but I have to say this got me a little misty. Seeing Bush take something (I'm thinking a Werther's Original but it really could be any candy) from his wife Laura and hand it to Michelle with a smile was a pretty beautiful thing. An example of just being human beings who give a s**t about each other no matter their politics. A light-hearted, relatable, visual example of McCain's final message to Americans written before he died, which read in part, according to NBC News:
We are citizens of the world's greatest republic, a nation of ideals, not blood and soil. We are blessed and are a blessing to humanity when we uphold and advance those ideals at home and in the world. We weaken our greatness when we confuse our patriotism with tribal rivalries that have sown resentment and hatred and violence in all the corners of the globe. We weaken it when we hide behind walls, rather than tear them down, when we doubt the power of our ideals, rather than trust them to be the great force for change they have always been.
All of that, but with candy.
This isn't the first example we've seen of the sweet friendship between Michelle Obama and George W. Bush, of course. The two have been caught laughing together at several state functions, and people have loved it. In fact, Bush explained their kindred spirit status in a 2017 interview with People, saying:
She kind of likes my sense of humor. Anybody who likes my sense of humor, I immediately like.
This time around, however, people all over the country seemed to watch the passing of that candy as something more significant than a meme-worthy moment. It spoke to the sort of kindness and acceptance that seems to be missing in modern-day America.
Sen. John McCain quite clearly left a legacy in his wake, and he seems to have orchestrated his passing as a way to share a message. To forget about partisanship or "tribal" loyalty to ideals rather than humans. To stick together as Americans first.
And to give your neighbor a hard candy, no matter what her politics might be.