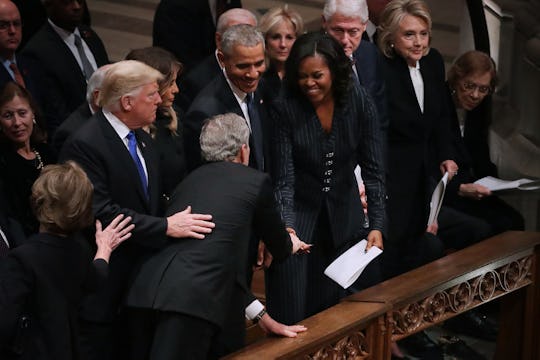 Chip Somodevilla/Getty Images News/Getty Images
George W. Bush & Michelle Obama Shared A Sweet Moment At His Father's Funeral
Sometimes there is this thing that happens with people who live political lives. They are able to think beyond their differences and relate on a human level — even in the face of grief. Because what is more human than sharing a treat with someone who has become your friend? Someone who has shown up to pay their respects as you lay your father to rest, despite being on opposite sides of the political fence? No wonder Twitter had a real moment when George W. Bush passed Michelle Obama a candy at his father's funeral on Wednesday. Because whatever your politics might be, there is something eternally endearing about their kindness to each other, even and especially at a funeral.
The funeral of 92-year-old George H.W. Bush, 41st President of the United States and father of 43rd President George. W. Bush, was already a significant one. Held at the National Cathedral in Washington, D.C., according to People, Bush Sr.'s funeral was attended by all five living presidents and their wives: Donald and Melania Trump; Jimmy and Rosalind Carter; Bill and Hillary Clinton; George W. and Laura Bush; and Barack and Michelle Obama. It was an emotional day of tribute to the former president, especially so for his family.
But that didn't stop George W. Bush from taking a moment to shake the hands of the visiting presidents... and slipping a little candy to one of his favorite first ladies.
George W. Bush can be seen on video reaching into his pocket to hand before clearly handing Michelle Obama what looks to be a candy. Which means he presumably woke up that morning and put a candy in his pocket specifically for that reason. On the day he would bury his father, he still remembered his friend.
And Twitter naturally loved every minute of it.
Michelle Obama and George W. Bush have something of a reputation for being unlikely friends. Despite the fact that she was a Democratic first lady and he a Republican president, the two have gotten to know each other at various political functions throughout the years. Including funerals, of course. In fact, it's only been a few months since the August funeral of Sen. John McCain, when Bush shared a candy with Obama, his frequent seat mate.
The former first lady opened up about the sweet moment on an episode of TODAY, as reported by TIME, saying:
I didn't realize at the time that anybody noticed what we were doing. President Bush and I… we are forever seat mates because of protocol, that's how we sit at all the official functions so he is my partner in crime at every major thing where all the formers gather. So we're together all the time, and I love him to death. He's a wonderful man. He's a funny man.
It's nice to see that this friendship means something to Bush, especially on a sad day. When he is saying goodbye to the "best father a son or daughter could ever have," as he described Bush Sr. in an emotional tribute, as reported by The Guardian. When he is feeling low and having to be so public with his grief, Bush seems to clearly take comfort in the small things.
Like sharing a little candy with his friend.